A major housing firm which was refused permission to build homes on the site of a former city school is to fight the decision.
Persimmon Homes North Scotland had applied to Dundee City Council for consent to build 62 properties on Gillburn Road, Kirkton, where Kingspark School once stood.
Councillors rejected the proposals, and the company appealed to the Scottish Government. Last month it was revealed that a Holyrood reporter had dismissed the appeal on the grounds that the site had not been earmarked for housing by the local authority.
However, Persimmon Homes said today that it has lodged an application to have the decision overturned.
A spokeswoman for the company said: "After careful consideration of advice from legal counsel, we have today lodged our application for a judicial review of the reporter's decision to refuse our planning appeal on Kingspark School.
"We believe that we have legal grounds to contest the reporter's decision and will seek to have the appeal decision quashed."
In its appeal documents, Persimmon accused councillors of bowing to "public pressure" rather than making an "objective decision" on the site.
Lynn Watson, of campaign group Save Kingspark for the Community, said the action by Persimmon was "never ending."
She said: "I think it's a great example of the planning system being totally weighted in favour of the big developers. I hope their review will be dismissed.
"This community opposed the development of this site for very good reasons. Our elected representatives voted to reject it and the Scottish Government reporter dismissed the appeal."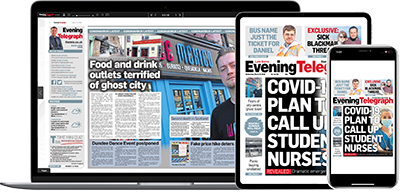 Help support quality local journalism … become a digital subscriber to the Evening Telegraph
Subscribe