A new top-of-the-range "people's piano" will soon be installed at Dundee train station after the first was damaged beyond repair by vandals.
The original instrument had been donated by local man Dave Patterson, 86, as a tribute to his music-loving wife Jean, who died earlier this year.
After it was vandalised, Dundonian Greg Joiner set up a fundraiser in the hope of collecting enough money to replace the piano, declaring "yobs don't represent my city".
Hundreds of people backed the crowdfunder appeal, raising a total of £4,419.
The money has now been used to buy the new piano, a "beautiful" upright Yamaha U3, as well as a stool.
ScotRail, Mr Patterson and Biggars music store in Glasgow are all working to have the instrument in place at the station in time for the opening of the new £80 million V&A museum on September 15.
It will no longer be housed in the concourse, but will instead be kept at the foot of the escalators so it can be monitored by ticket staff to prevent any repeat of the vandalism.
It will feature two brass plates – the original, dedicated to Jean, and one declaring it to be "the people's piano funded by donations from the citizens of Dundee and friends of the city worldwide".
The new piano is as "good as anything at any station in Britain" according to Mr Patterson. "It's a marvellous piano and one that I think fits with our aspirations as a city," he said.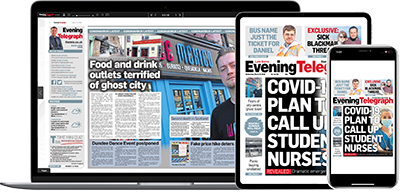 Help support quality local journalism … become a digital subscriber to the Evening Telegraph
Subscribe