A council is planning to curb swearing in the town centre by issuing fines.
It's called a Public Spaces Protection Order (PSPO), and it also bans begging, drinking alcohol on the street and skateboarding. Those who fall foul of the order could be warned, moved on or face a £100 fixed penalty, according to council documents.
Human rights group Liberty labelled the move "a staggering misuse of power" by Rochdale Borough Council in Greater Manchester, England.
Excellent use of the word "n'er do wells" from Rochdale council leader @Richardfarnell1 who wants to ban swearing (Liberty aren't amused) pic.twitter.com/1JI9OclPwu

— Helen Pidd (@helenpidd) March 8, 2017
In response, leader of the council, Richard Farnell, said in a statement "We are clamping down on a small minority of antisocial ne-er-do-wells who drunkenly shout and swear and harangue shoppers in our town centre."
"I make no apologies for trying to make Rochdale a more welcoming place for people to enjoy and this is supported by the overwhelming majority of local residents.
The move has produced some interesting commentary on Twitter…
they are trying to ban swearing in rochdale ,,, uh right okay lets see how well that goes

— gabriel (@gabrielxtaylor) March 8, 2017
Rochdale,is banning,swearing.What happens,if you have tourettes??

— michael james snow (@michaeljamessn2) March 8, 2017
Council bosses are planning to ban SWEARING in Rochdale town centre
That would be hard one to enforce, most kids think it's normal language

— William Marshall (@allan3_marshall) March 8, 2017
… but also some comedy gold.
– Miscreants! Ruffians! Scallawags! Begone, you concourse of Mumblecrusts!

— Lincoln Taylor (@conflummoxed) March 8, 2017
If they ban swearing, they're effectively banning talking in Rochdale. An absolute ****ing joke. ? https://t.co/uKoQWYT0CR

— Michael Beal (@MJ_Beal) March 7, 2017
Guarantee anyone in Rochdale that gets fined for swearing will almost definitely respond with more swearing

— Cherry Blo$$om (@MichaelMoore104) March 8, 2017
The plans were presented to the council cabinet on Monday and are under consultation, so by no means is the policy locked in place.
Kettering and Salford have already deployed PSPOs which include swearing, so Rochdale won't be the first if it chooses to go ahead.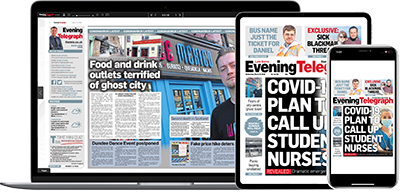 Help support quality local journalism … become a digital subscriber to the Evening Telegraph
Subscribe