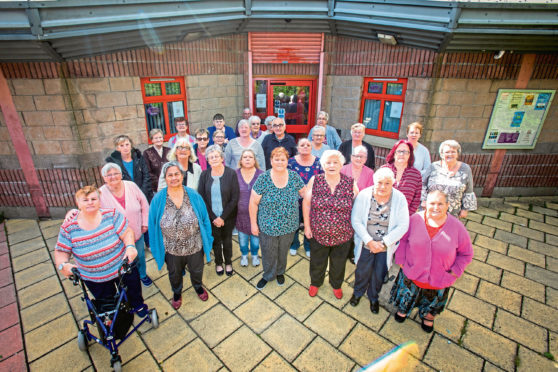 A group of pensioners are having to leave a meeting place they have had for over 20 years due to the unfit state of the building.
They are being rehomed in the interim at Perth Christian Centre more than a mile away until a more permanent home is found for them.
The Fairfield Neighbourhood Centre will shut its doors for the final time on September 30.
Structural defects which made the roof unsafe were discovered and the building was deemed uninhabitable by Perth and Kinross Council.
One member of the group, Alice McGuire MBE, said: "About 30 of us meet every Tuesday and Wednesday for lunch and games of bingo, as well as other activities.
"It gives us a chance to have a chat and our meetings provide an opportunity for us elderly folk to have a get-together. We all really look forward to our days at the centre. Some of the folk who come along don't get out very often due to the fact they are infirm."
Alice, who was made an MBE for her work in the community and with the Territorial Army, added: "Some of our members come from Fairfield and others from Tulloch and Letham.
"Those who come from outwith Fairfield don't have far to travel as they live near the Fairfield estate so the centre is handy for them.
"Our members are all elderly – some in their 80s – and these get-togethers are a lifeline for some. We are very upset about what has happened.
"The centre was handy for all of us.
"A number of our members are disabled and, with the centre being near where they live, it was not too difficult for them to get there.
"Moving to somewhere outwith the area could be problematic. The uncertainty and upheaval is causing upset."
Councillor Dave Doogan, an elected representative for the area, is working to find a long-term solution.
He said: "The situation with the centre is extremely disappointing.
"Structural engineers have found flaws in the building and have advised closure.
"It's possible a heavy fall of snow could seriously impair the building's roof.
"In the interests of safety, the building will have to come down.
"There is no point in having it still in use as we have to consider the safety of people.
"I am now doing all I can to find permanent other accommodation for the pensioners who will meet at the Christian centre in the interim."
Mr Doogan revealed that the faults found in the centre were discovered when the council decided to have all its properties inspected in the wake of the wall collapse at Edinburgh's Liberton High School in which a schoolgirl was killed.
He said: "All council buildings were inspected and that was when the Fairfield Centre problem was detected.
"It is unfortunate as the building was well used by a number of groups over a number of years.
"I appreciate how difficult it is for groups such as these pensioners to find a suitable place nearby to hold their regular get-togethers."
A council spokesman said: "Since we became aware of these issues, the council has been working with all groups which use the centre, and they have all been found alternative premises.
"The building will be made secure until January, when it will be demolished. This will take until March.
"The council is considering the best future use for the site."
Councillor Murray Lyle said: "It is sad to say goodbye to Fairfield, but the important thing is to keep people safe.
"Thankfully, we have been able to rehome user groups elsewhere."