Scotrail has revealed more details of a renovation programme for Dundee Station's existing facilities set to be carried out later this year — including a new lounge for sleeper train users.
The Scotrail Alliance has applied to the city council for a building warrant to carry out £700,000 of renovation works on the station's concourse and waiting area.
The firm has now revealed that, if approved, it intends to carry out the works in the summer.
In addition, it has also disclosed new details of what travellers can expect when passing through its gates to use both ScotRail and Caledonian Sleeper services.
The area in front of the station's existing WHSmith unit will have its floors, ceilings and light fixtures renovated to match the style of the new arc-shaped entrance, currently being built at South Union Street.
In addition, the existing waiting room and toilet facilities will be refurbished and reconfigured to improve standards and accessibility.
One of the biggest changes to the existing facilities will be the introduction of a Caledonian Sleeper Lounge, which will be developed in the existing waiting room facilities.
The waiting lounge, which will be available exclusively for sleeper train customers, will have toilet, shower and seating facilities so those travelling at night can wait in comfort for their train.
The refurbishment of the station, being carried out by IDP Architects in partnership with the rail company, will also incorporate painting of platform buildings, repairs to roof glazing and other maintenance to bring the station's existing buildings up to spec.
VIDEO: See the new Dundee Railway Station go up in 44 seconds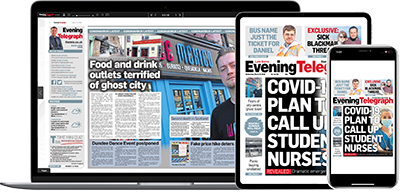 Help support quality local journalism … become a digital subscriber to the Evening Telegraph
For as little as £5.99 a month you can access all of our content, including Premium articles.
Subscribe