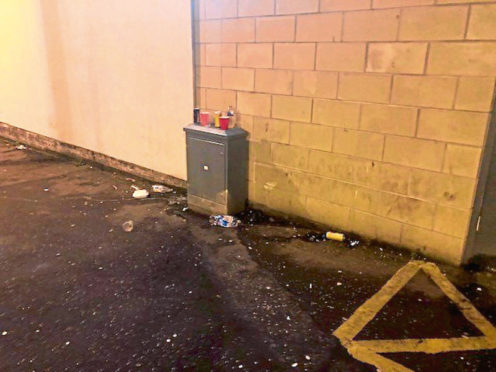 Locals fear streets around one of Dundee's busiest nightlife spots are turning into a "bottle graveyard".
Areas around South Ward Road have been left in a mess in recent months, with revellers knocking back booze on the streets and using electrical boxes as tables before moving on to city nightspots.
Pictures taken earlier this week show beer cans and bottles of spirits dumped opposite the petrol station.
One local said the area was particularly bad yesterday morning after party-goers had been out on the town.
He said: "I came down Thursday morning just before 7am.
"I was greeted with sick, urine, bottles of spirits and empty cans of beer.
"It always seems to be worse on a Thursday morning after a Wednesday evening.
"It's a bottle graveyard on the way into work.
"I would assume most of the revellers are partaking in student nights out and are trying to save themselves a few quid.
"I feel sorry for the street sweepers who need to clean these areas up because it's a total disgrace.
"This isn't a one-off either as it's happening every week.
"I came down today and it was totally clear, which leads me to believe it's a problem related to Wednesday nights."
Despite the worries of residents, owners of nightclubs in the area have denied any knowledge of their customers drinking in the streets before entering their premises.
The owner of Carbon and Kush nightclub on South Ward Road, Tahir Ramzan, said he was unaware of issues of alcohol being consumed on the surrounding streets.
He said: "This is the first I've heard about this.
"Anything that happens en route to the club is outwith our control.
"The problem isn't directly outside the clubs and might be impacting more on the petrol garage.
"We certainly don't have issues with our customers who come in during the week. They come and enjoy themselves.
"Given it is not happening directly outside the club it's outwith our control."
A spokesman for Club Tropicana and Aura next door urged customers and residents to get in touch if there were any further issues.
He said: "We haven't received any complaints regarding this matter. However, we will investigate with the information you have provided us with.
"If anyone would like to get in touch with us simply email info@auradundee.co.uk."
Dundee City Council had not responded to a request for comment at the time of going to press.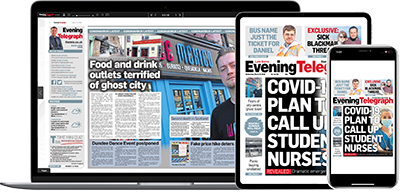 Help support quality local journalism … become a digital subscriber to the Evening Telegraph
Subscribe