A "beautiful girl whose smile lit up every room" is how the parents of Morgan Christie are going to remember their daughter, who has died after eight years of living with epilepsy.
Morgan, 23, who is originally from Carnoustie but was living in the West End of Dundee, couldn't be roused on the morning of June 6.
Her devastated parents, Heather and Peter Christie, said their daughter's sudden death was a result of her condition.
Speaking at their family home in Carnoustie, the couple – both 52 – said their much-loved daughter had never let her illness get her down.
A former pupil of Kinloch Primary and Carnoustie High School, Morgan had been working as an archivist at Blackadders in Dundee.
Heather, a pharmacist in the Angus town, said Morgan had been diagnosed with epilepsy when she was 15.
She said: "She tried various forms of medication, although we couldn't find one that suited her.
"Her epilepsy was drug-resistant and she had to spend a fair bit of time in hospital.
"However, Morgan refused to let her condition influence her life.
"She never played on her condition and not once looked for sympathy. She just got on with things.
"She was very stoic and did not want this condition to control her.
"That was typical of her strength of character.
"She was a beautiful girl with a big smile that lit up every room she went in to.
"She was always smiling.
"I think that's what everybody will remember about her."
Dad Peter, an engineer, said Morgan had managed for so long with her condition.
He added: "She never let it dictate her life, never complained and she wanted her independence.
"Morgan also had a heart of gold and a huge social conscience.
"She would do anything for anybody. One typical story is that she regularly used to help out a guy she would see sitting outside one of the shops in the West End.
"She would go into the shop and buy things for him he needed.
"This was so like her and the kind of thing she liked to do to help people."
Morgan's parents said she had been keen to raise awareness of how people should cope if they were with someone who took an epileptic seizure.
Heather said: "Morgan suffered regular seizures and she was very keen that people should be aware of how to deal with someone who was having one.
"She felt there wasn't enough information out there about what someone should do in those circumstances."
Heather said Morgan had been a keen artist and had become a runner in recent years.
"She loved to do portraits of people," said Heather.
"She hated PE at school but recently she began to enjoy running.
"Morgan was a regular at the Saturday morning fun runs at Camperdown Park."
Morgan's funeral was held at St Anne's RC Church in Carnoustie on Thursday.
Donations were being asked for Burnside Primary School's Give and Take charity.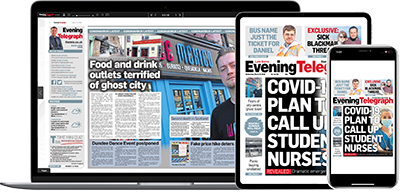 Help support quality local journalism … become a digital subscriber to the Evening Telegraph
For as little as £5.99 a month you can access all of our content, including Premium articles.
Subscribe