An angry parent has called for a back-up plan after pupils at a city school were left without a crossing patroller.
A mum from Forthill Primary raised her concerns after parents were informed there would be no patrol in place on Forthill Road "until further notice" – with no reason given.
Pupils went 10 days without a patroller and parents were sent another message on Friday to say someone would be back in place today.
Angela Lyall, whose son Duncan attends the school, said: "In a situation where there isn't a lollipop man or lady, something should get put in place straight away. There needs to be something done if there is going to be somebody off – that person needs to be replaced.
"You can't leave a road as busy as that without support to get children over safely. It's so dark – it is an accident waiting to happen.
"It's as if the council and Tayside Contracts take no responsibility for it.
"We have been trying get a crossing on Forthill Road for more than a year now, as it's just not safe. I think the school has a responsibility, certainly right outside the school.
"It is bad enough for adults to try to see when cars are coming along, and a child would not be able to see.
"This is a completely unsatisfactory situation, especially given the wet, dark conditions.
"I have been contacted by many parents who are gravely concerned about this situation, and I am very concerned for the safety of children crossing this increasingly busy road at one of Dundee's busiest primary schools. It is just not sustainable at night time."
Broughty Ferry councillor Craig Duncan said he had been made aware of the issue and had been in touch with both Tayside Contracts and the head of education.
He said: "I can assure parents that if it's been like this for several days, I would be very concerned. Patrol officers are not there as a decoration, they are there as a safety measure.
"It is starting to get dark these days. It would be concerning enough in the summer.
"Of course, there can be short-term absences, but if it's been going on for several days, I would really expect the authority to have contingency plans to fill that gap."
Tayside Contracts, which is responsible for the crossing patrols, said in a statement: "While there has never been a period of 10 days when Forthill PS has been without an SCP, as has been claimed, it is true that there had been no cover since the afternoon of Tuesday 4 December until today [December 10] .
"Whenever the vacancy arose we notified school staff to enable them to tell parents that there would be no cover until Monday 10 December.
"The delay in providing cover is due to the necessity to ensure that full training is given to the temporary SCP and that the required statutory child protection checks are completed.
"As a 'back up plan' Tayside Contracts does have a small pool of existing employees who can provide cover at short notice.
"However, whilst Tayside Contracts achieves cover of over 97% of points throughout the year, it is not always possible to cover every crossing point 100% of the time."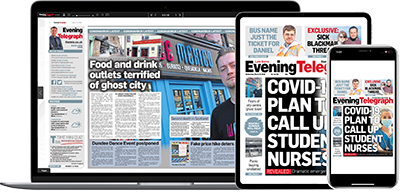 Help support quality local journalism … become a digital subscriber to the Evening Telegraph
Subscribe