A Lochee granddad was granted his dying wish after his barber paid for a trip to the home of his Italian ancestors.
Roddy Tanbini, 60, died surrounded by his family on Saturday after suffering from an aggressive form of lung cancer.
Roddy was well known in the Lochee and Charleston areas and was described by his daughter as a "big, lovable giant".
Roddy was told he had cancer in January and, despite the devastating diagnosis, he was given a huge boost thanks to the help of Monifieith barber Carlos Barbolla, who hails from Italy.
He provided Roddy with an all-expenses-paid trip in a campervan to Borgatello, where his family originated, as well as taking in a tour across parts of the country.
Roddy's daughter Linda, 23, said: "He struck up a great friendship with Carlos and it was absolutely amazing what he did for him.
"The fact that he just paid for him to go to where his family was from meant the absolute world to him."
Carlos, 46, said: "We saw Tuscany, we had a Ferrari, a Ducati – he was so passionate about cars and motorcycles. We did 1,000 miles in one week.
"The friendship we had was not material – he was very helpful in my life with advice and it was so sad when I heard about his illness.
"I wanted to thank him for all his support. My last words to him were: 'Thank you, my man – have a good one.'
"He left this world in peace."
Affectionately dubbed "Grumpy" by his family, Roddy was a regular in Sandy's Bar in Lochee.
The former Rockwell Academy pupil underwent six bouts of chemotherapy before using cannabis oil in a bid to reduce the pain caused by his illness.
Linda said her family were "devastated" by the diagnosis, but she hailed her dad's treatment by Ninewells Hospital staff.
She added: "My dad wasn't an angel but he was just a proper family man, a big, lovable giant.
"He was quite cheeky, he couldn't hold his tongue, but that's why people loved him.
"We were all devastated when he got diagnosed. He was perfectly fine before all that.
"He did the six bouts of chemotherapy, one after the other. I was there with him the full time and he bought me a charm bracelet for every session.
"After the chemotherapy, he started using cannabis oil which was amazing for him.
"The last chemotherapy knocked him for six but the cannabis oil was the thing that gave him a bit of dignity.
"Dr Clark who helped us was absolutely amazing, he's even coming to the funeral.
"I just know he'll be looking down on us smiling."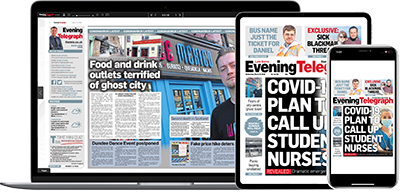 Help support quality local journalism … become a digital subscriber to the Evening Telegraph
Subscribe