Owners of a former city bank have said they will listen to ideas from community groups interested in moving into the £30,000-a-year property for the next 18 months.
The TSB on Albert Street, Stobswell, closed in November 2016 and has remained vacant since.
TSB's property agent CBRE confirmed the bank is paying £30,000 a year for the premises until its lease expires in May 2020.
And a spokesman for CBRE revealed the bank was willing to hear ideas from local organisations about using the space while it ran down its contract.
The spokesman said: "TSB's lease expires on the premises on May 23 2020.
"TSB have tried to surrender the lease but the landlord's stance is that TSB are paying a strong covering on the property.
"TSB would be willing to speak to a local organisation about sub-letting the building until the lease expires."
TSB and The Royal Bank of Scotland (RBS) have both closed sites in Stobswell over the last two years.
Funeral director James Ashton and Son revealed in October they would be expanding the business into the former RBS premises that closed earlier this year.
Stobswell Forum chairman Colin Clement had previously voiced his disappointment about the lack of progress on the former TSB premises.
He said there had been interest in the property in the past but he had doubts as to who would be prepared to meet the rent demands.
He said: "I was aware that there was an agreement in place to pay £30,000 in rent. There are still a few years to run on that lease as I understand it.
"It's a prime location and I'm aware there has been some interest in the site in the past.
"Whether someone or an organisation would be willing to pay that sum of money is another matter entirely."
David MacDougall, vice-chairman of the Stobswell Forum, said he "welcomed" the discussions.
He said: "I know at one point we had attempted to use it as a pop-up art gallery during Stobfest after the branch closed.
"The fact there is an opportunity to sublet has to be welcomed. Before the Scottie Centre opened in the former Stobswell Medical Centre there had been discussions about the TSB building."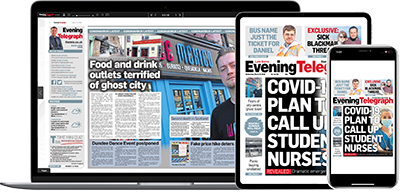 Help support quality local journalism … become a digital subscriber to the Evening Telegraph
Subscribe