A dog owner has blasted irresponsible fishermen after his labrador swallowed four discarded hooks and needed emergency surgery.
Mark Macpherson, 45, from Carnoustie, was out walking with his wife, Vanessa, their two children and three dogs on East Haven beach on Thursday when his black lab, Bella, became distressed.
To his horror, Mark, a project manager, discovered she had swallowed fish hooks.
One had pierced Bella's tongue, causing her considerable distress.
Mark said: "She picked up a discarded fishing line with several hooks on it – they were all about two inches long.
"The hooks became embedded in her tongue and jaw and she then swallowed them.
"We are really lucky that they did not stick in her windpipe.
"I was in a mad panic when I realised she had swallowed them. One had pierced right through her tongue and she was in a lot of distress.
"I was trying to help her but it's pretty difficult to get a dog to hold still, particularly if they're in pain.
"She was chewing loudly and really salivating and it wasn't nice.
"She was trying to bite it out with her teeth."
Vanessa, 42, who works in a dog groomers, rushed Bella to the vet while Mark waited at home with children George, 13, and Charlie, 10.
Mark said: "The vets were fantastic – they cancelled what they had on to do the emergency surgery.
"They had to open Bella up and take the hooks out of her stomach. The operation cost £823.
"She hasn't been eating since the operation but she seems to be perking up a bit now, considering what she's gone through.
"East Haven is an absolutely lovely beach and a great spot to take the dogs.
"Unfortunately there are one or two unlicenced fisherman who go there and seem to just snap their lines when they finish and leave them – this is the consequence.
"I would urge anyone who is walking their dogs on the beach to be aware of this and watch out for discarded fishing equipment.
"Hopefully if anyone reads this who does go fishing, they will think twice about just dumping their lines."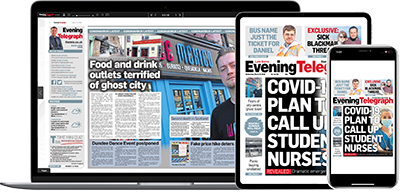 Help support quality local journalism … become a digital subscriber to the Evening Telegraph
Subscribe