Motorists have been left outraged after a bus lane camera kept churning out hundreds of fines for motorists diverted for a Hollywood movie.
Glasgow City Council has apologised after the camera at Nelson Mandela Place in Glasgow city centre remained operational despite officials suspending the restriction while Hobbs and Shaw was being filmed.
As a result 817 individual demands for cash have started appearing on door mats, reported the BBC.
The £60 fine can rise to £90 if it goes unpaid after a month.
The restriction should have been suspended for the filming of the movie,starring Idris Elba and Jason Statham.
The Universal Pictures film, which is a spin-off from the lucrative Fast and The Furious franchise, also features Dwayne Johnsone.
One motorist has just had his fine ripped up by the council after he submitted an appeal.
He told the BBC: "I just wonder how many people just paid up and didn't appeal? It's a shambles."
In 2017 the Nelson Mandela bus gate caught out 22,317 drivers generating £1.3m in revenue.
The council shut off a series of streets around George Square between 23 and 29 October to allow 200 film crew and actors shoot scenes for the movie, which is due out next year.
Roads laid out on a 'grid' system have helped it double as Philadelphia, New York, San Francisco and London for a host of major productions,
The council believes the mix-up happened when one of the production crew wrongly changed a street notice, on just one day of filming, diverting motorists into Nelson Mandela Place
A spokesman said: "The traffic order issued by the council was clear that the bus gate at that location was still operational on the day in question.
"However, the team employed to manage the traffic on behalf of the film production on October 28 put out signs that erroneously indicated that the bus gate had been suspended.
"In the circumstances, we will refund all those who have paid a fine and cancel all other charges."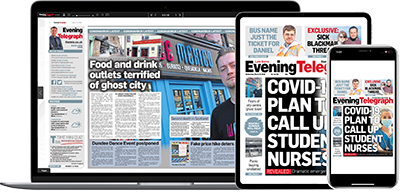 Help support quality local journalism … become a digital subscriber to the Evening Telegraph
Subscribe