A care home firm has criticised the "lenient" decision to let a worker who used racist language continue working in the industry.
Shaunnie Mills, from Fintry, has been ordered to undergo diversity training after she called two ethnic minority colleagues at Downfield's Harestane Care Home "apes".
The Scottish Social Services Council (SSSC) found she made "racially motivated" remarks, including that the pair "shouldn't be in this country" and "should go back to their own country".
She also made other, more serious remarks that were censored from a report on the proceedings.
Ms Mills, who admitted to the panel that her conduct was "horrible", was given a three-year warning on her registration and ordered to complete a diversity training course within 18 months.
The SSSC said Ms Mills' otherwise "exemplary" record was a mitigating factor in her case.
However, Priority Care, the firm which operates Harestane, has hit out at the "lenient outcome". Finance director Harry Locherty said: "Ms Mills was employed by our company at the time, over 19 months ago, however her employment ceased shortly afterwards.
"We have fully assisted the SSSC's inquiries into the allegations, providing all information requested from our own internal disciplinary investigation for the hearing.
"We fully recognise the findings of the SSSC, however we were disappointed with the lenient outcome."
The SSSC panel also found Ms Mills had embarked on a "campaign of bullying" against a female colleague, named in papers as ZZ.
She was found to have spat a sweet at her and shouted at her to "hurry up" when applying a dressing to a care home resident.
Ms Mills also called ZZ "stupid" and an "idiot" and asked invasive questions about her sex life.
The incidents happened on various dates between 2014-2017.
Ms Mills did not respond to a request for comment.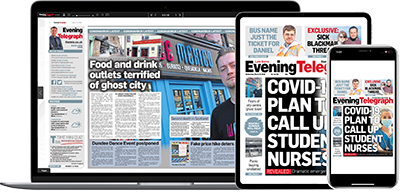 Help support quality local journalism … become a digital subscriber to the Evening Telegraph
For as little as £5.99 a month you can access all of our content, including Premium articles.
Subscribe