With colossal transfer fees, mammoth broadcasting deals and wage bills that read like the budget of a small country, modern football is often seen to be a corporate monster.
Indeed, in a world where a player's ego and image is considered more marketable than ability, advocates of 'the good old days' will pine for a time before top-knots and man-buns, when diving was reserved for the pool.
But it's not all bad.
Fitness, ability, tactical nous and longevity have all improved vastly, sometimes with pragmatism or 'park the bus' football in mind, but generally making the spectacle all the more entertaining – you'd be hard pushed to name a more astonishing match than Barcelona's 6-1 revival against Paris Saint Germain last month.
One topic which still polarises discussion, though, is fair play.
Convincingly conning the referee has become as much a skill as decent dead ball delivery as on-pitch occurrences appear to undermine modern football's case for squeaky-clean sportsmanship.
But what about off it? How different is the modern game, really, when it comes to the lifeblood of clubs, the fans?
The truth? Not much.
A faction of Leicester City supporters gathered in Madrid's iconic Plaza Mayor yesterday ahead of their Champions League quarter final clash with Atletico.
The popular tourist attraction encompasses a diverse and multicultural blend of visitors, keen to glean an insight into the city's history.
It's a great shame that the group of fans in question were more intent to evoke the less-than-friendly spirit of the Auto-da-fé – public penance rituals held during the Spanish Inquisition.
With tabloid headlines and a limited knowledge of politics at the ready, a minority of fans confronted riot police yestersday afternoon, chanting a series of obscenities towards the Spaniards before adding "Gibraltar is ours."
VIDEO: Leicester City football fans clash with police in Madrid
If the Britons abroad image hadn't taken enough of a battering over the last year or so, these actions certainly didn't do it any favours.
Standing in redemptive contrast to the exploits in Madrid was the warmth and compassion between fans in one of the competition's other fixtures.
Borussia Dortmund's tie against Monaco was played a day later, after a series of explosions in a suspected terror attack damaged the team bus, leaving defender Marc Bartra in need of surgery on his arm.
Goodwill was abundant, as Monaco fans chanted "Dortmund, Dortmund" in solidarity, while a social media message '#bedsforawayfans' accommodated travelling support and shaped new friendships in the process.
In a recent snapshot, then, modern football weighs its good against its bad.
So, was fair play more prominent 30 years ago?
For fans of Dundee United, that would be a resounding yes.
The 1987 UEFA Cup Final is immortalised as a shining light in the Tangerines' history.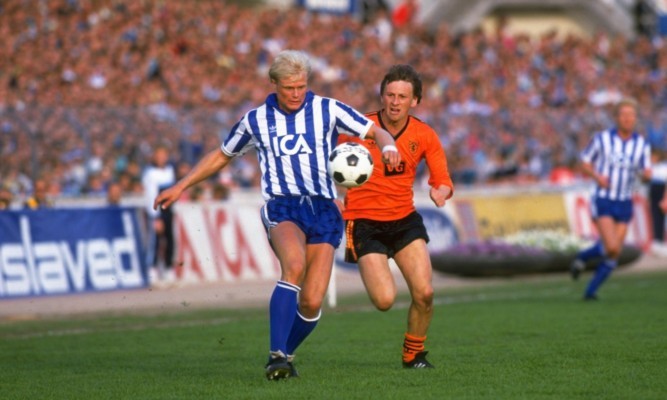 Tannadice played host to IFK Gothenurg in the second leg of the final, and United fancied their chances having limited the visitors to just a 1-0 lead in the first instalment in Sweden.
Lennart Nilsson put Gothenburg 1-0 up with a vital away goal in the first half, before John Clark levelled the match midway through the second.
United wouldn't find the two goals necessary to lift the trophy, and Gothenburg were crowned champions.
However, proud of their team's journey and gracious in defeat, United fans applauded the victors, leading Gothenburg to an almost unprecedented full lap of honour around the Tannadice pitch.
The gesture did not go unnoticed, and the Terrors were awarded the first FIFA Fair Play Award, an accolade which is fondly commemorated by the Fair Play Stand.
For context, the 1980s was no advert for benevolent football fans.
Just two years prior English football found itself in trouble both domestically and on the European stage.
A forceful five-year ban was imposed on all English clubs entering European competition following the Heysel disaster in the 1985 European Cup Final.
Pre-game hostility between fans of Liverpool and Juventus flared over into chaos, leaving 39 dead and 600 injured.
Domestically, Millwall carved a reputation as the bad boys of English football, and the 1985 Kenilworth Road riots – one of the worst instances of football hooliganism in the decade – led to Luton imposing a four season ban on away supporters.
Football has changed.
In many ways for the better, and in some ways worse.
One thing that is constant, however, is that sportsmanship and fair play have stood in the face of hostility long before the modern football machine started rolling, and with any luck will continue to do so as the game grows.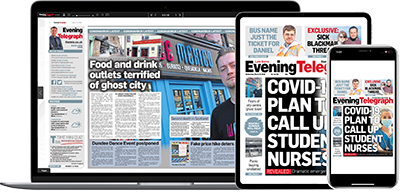 Help support quality local journalism … become a digital subscriber to the Evening Telegraph
For as little as £5.99 a month you can access all of our content, including Premium articles.
Subscribe