University students have called for a delay on their dissertations due to he upheaval and disruption they are facing as a result of coronavirus.
Fourth year students from Abertay University have written an open letter to the school's principal, Nigel Seaton, also appealing for final exams and essays to made optional.
Eddie Baines, who is studying criminology and is an executive officer with the Abertay Students Association, said: "With the university closed now it's an unprecedented time for everything at the moment with this virus.
---
---
"We were in class a couple weeks ago, none of us felt that it was going to be the last time.
"The letter was from the students' association, we gave them 14 points to look at, highlighting some of the issues that fourth year students would be facing.
"There are a lot of students that are parents and are having to self-isolate. They are more worried about children and family stuff than they are about uni."
Think carefully about getting pregnant during coronavirus crisis, couples urged
Eddie said students had been asked to work from home but said for some, including him, this might not be possible.
He said: "I've got four children, one of them is seriously autistic. I'm running around the house and meant to be doing my dissertation and studying at the same time. It's not possible. You are constantly being pulled away from work.
"When you are in the library nothing distracts you, 100 things come up at home.
"I've got three weeks until my dissertation is due in. They said they would extend the dissertation deadline for 10 days. This is meant to last a while, why not set a date a month or so later?"
Dundee BT staff claim they are still working as normal during coronavirus pandemic
Eddie also suggested that library closures hindered students and those with conditions such as dyslexia might struggle to read lecture materials on computer screens.
He said: "Being online is all well and good if you have got the technology."
He also added that students may be missing out on mental health support from university staff as well as peer support from fellow students.
He said: "There's a lot to be said for exams and the build up. I think the biggest thing students are going to suffer from is the loss of student support. Friends get you through it at the end of the day, you boost each other. The loss of that is an immense thing and that has not been taken into consideration."
"I think there will be a lot of people re-sitting or failing this year."
The letter also called on international students paying for tuition to be given a refund equivalent to three weeks' tuition.
A spokesman for the university said: "Due to the diverse nature of our programme portfolio, there is not one simple solution around examinations and assessments that will fit the university as a whole, however we will ensure that all final year students have the opportunity to complete their degrees and graduate.
Send us your 'selfie-isolating' pictures to bring some cheer to Tele readers!
"We have changed our procedures so all students can apply for an extension of two weeks on their assessments, or choose to defer to the next assessment opportunity, without the usual need to provide any supporting evidence.
From the Editor: The Tele is on your side — that's why we're offering our ePaper FREE for three months
Follow below for the key coronavirus updates: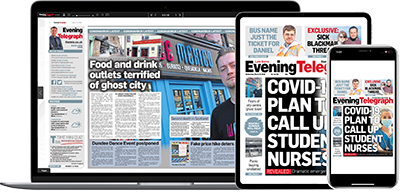 Help support quality local journalism … become a digital subscriber to the Evening Telegraph
Subscribe