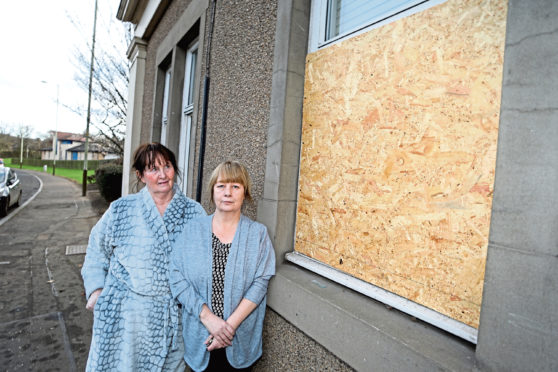 Residents in a Dundee area are worried their tenement is turning into a "ghetto" following a spate of anti-social behaviour.
Pauline Barber and Janet McDonald have lived on Logie Street for a combined total of nearly 50 years.
Both residents say their block – close to the junction with City Road – has been blighted with problems.
Pauline 67, said they have contacted Home Group – which manages a large number of the flats – to install CCTV within the block.
Both ladies said the introduction of cameras may go some way to combatting the ongoing problems.
Pauline said: "There have been issues over the last four years.
"Most recently one neighbour had a brick through her window.
"There was police back in the block on Friday morning.
"I had a card through my door from officers advising there had been more vandalism in the block."
A door lock in the building was vandalised on Friday.
It is believed superglue or another similar sticky substance had been used to damage it.
Janet, 55, said there have been problems with drug users accessing the block in the past.
She said: "We've contacted the council's anti-social team, police and Home Group in relation to these problems.
"We do have a secure entry on the front door but there have been issues with people accessing the backdoor.
"That appears to be how this recent incident has happened. It does make me very anxious to know these things are happening.
"Over the last four years the block has gone downhill – it has turned into a ghetto.
"Myself and Pauline have both asked for extra security measures from Home Group. I've had more locks put on my door.
"We've asked Home Group about the potential of getting CCTV installed into the internal part of the close."
A spokesman for Police Scotland confirmed officers had been at the block in connection with an incident of vandalism.
He said: "Police Scotland are investigating vandalism to a property in Logie Street involving the lock of a property having been damaged with superglue or a similar substance following an incident on January 11."
Home Group was approached for comment ahead of the Tele going to press today.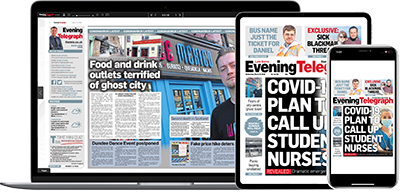 Help support quality local journalism … become a digital subscriber to the Evening Telegraph
Subscribe