Pensioners have pledged to fight an "outrageous" charge which means they have to pay to take a shower.
Dundee Pensioners' Forum claims some disabled older people are being charged as much as £10 a week to shower in their council-run properties.
Plans to abolish the charge were raised by the group at a council meeting, winning the support of West End councillor Richard McCready.
Forum secretary Dorothy McHugh said the charge was brought into force in 2007 when showers were installed in the council homes of people who required them because of a disability.
She said: "The council has been trying to keep this quiet but a service charge levied on vulnerable and disabled pensioners who have had showers installed their homes means some of them have been forced to pay about £6,000 over the past 12 years – just to have a shower in their home. That makes it a very expensive shower.
"We are going to continue to fight the council to get this charge abolished.
"The recent rents consultation has brought this matter to the fore.
"If a 4% rent had been agreed, then the shower charge would have been dropped.
"However, councillors agreed to increase rents by 3.75%, according to tenants' wishes, which means the shower charge will remain.
"We do not feel this is a fair charge.
"This charge remains at either £5 or almost £10 a week.
"This is an outrageous amount to pay to take a daily shower and we want it abolished.
"We are also asking the council to tell us how much it has spent on installing showers in that time so we can be certain the charges paid to the council far exceeds the money paid by tenants."
Mr McCready said: "This charge makes taking a shower a luxury. Having a shower should not be a luxury in 2019."
Elaine Zwirlein, director of neighbourhood services, said the charge was introduced in 2007 when tenants said they wanted to have a shower fitted in their property.
"Tenants voted in favour of the lower rent increase which means that the shower charge remains," she said.
"Council officers will meet with the forum to discuss their concerns."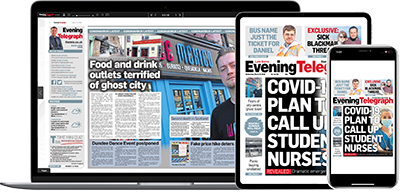 Help support quality local journalism … become a digital subscriber to the Evening Telegraph
Subscribe