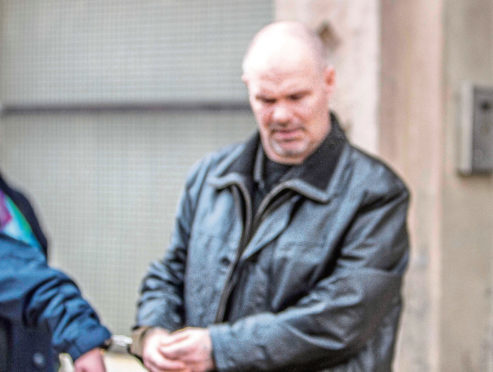 An elderly couple subjected to a terrifying robbery at knifepoint by a serial crook who had already broken into their home before described him as a "scumbag".
Thomas Smyth broke into the home of Elizabeth and Jim Smith's home at Cairnie Street, Arbroath, in April last year.
Dundee Sheriff Court heard he spent nine months awaiting trial.
It was during that time – two weeks before he was due in court – he returned to their home and carried out the knifepoint robbery on April 4.
Despite elaborate security systems put in place by the elderly couple after Smyth's first break in, he managed to sneak into the house and spent 40 minutes lurking in it before going into the couple's bedroom.
Once there he pulled at the couple's bedsheets, waking Elizabeth and prompting her to put on the light. He stood at the end of their bed brandishing a knife at Mr Smith, while demanding money.
The terrified couple told him they didn't keep money in the house because they had been burgled before. He made off with bank cards and jewellery.
Elizabeth, 79, said she and Jim, 85, feared for their lives during their latest ordeal.
Mrs Smith said: "It was terrifying – we feared we would die.
"He put us through a terrifying experience and our lives haven't been the same since.
"We find it difficult to sleep at night.
"My husband lies awake listening. He has even spoken about moving, but I love my house. Why should we move because of this scumbag?
"I also don't think the sentence was long enough for what he did to us.
"We're terrified he'll be out in something like a year and could come back."
Smyth, 49 a prisoner at Perth, originally appeared at Dundee Sheriff Court in July last year.
Last week, he admitted theft by housebreaking in April 2017 and assault with intent to rob in April this year.
Sheriff Alistair Carmichael sentenced Smyth to two and half years in prison and told him: "These are bad offences, particularly the second. It is despicable."