Joyce Welsh's passion for nutrition and health has made food fun for nursery kids and now she has been recognised for her achievements.
Joyce is the cook at the Red Squirrel Nursery in Glendoick, Perthshire – but she isn't just any normal chef.
She also encourages the children to try exciting new foods and ensures that all of the meals she provides are nutritional.
Joyce was previously a manager in a food service department but the stresses of the job while having two young children to look after led her back to her roots as a cook.
She got a job at Pinewood Nursery in London 16 years ago while living there with her husband who was in the RAF, and instantly felt that she was in the right job.
Joyce said: "When I got my job at Pinewood it didn't feel like a job – it felt like I was doing a hobby.
"I have worked in four or five nurseries since. I enjoy cooking but I love interacting with the kids and seeing them react to new foods.
"There is lots of job satisfaction."
Joyce prides herself on using only natural sugars in her meals and no salt.
She also does more than just cooking the meals. She works with the children to teach them about new fruit and vegetables, how to cook simple foods and even how food is grown.
Joyce added: "I like to try to sit with all of the kids and teach them about new foods.
"We go out into the garden and plant vegetables and I also show them how to make meals.
"We really want the children to be as independent as possible so we allow them to serve themselves food at lunchtime.
"It is incredibly important to me for the kids to try new foods and textures so I make a lot of different meals each week and support the children to at least try things that they haven't before.
"It is amazing seeing kids who have been really fussy and wouldn't eat anything that was cooked for them now sitting down helping themselves to their lunch.
"I am really passionate about healthy snacks and lunches for the children and after 16 years doing this job I really couldn't imagine myself doing anything else now. I love it."
Award nomination
Joyce's food is not only a hit with the kids at Red Squirrel Nursery – she has also been nominated for a national award.
She was put forward for the Nursery Management Awards Best Cook category by her former manager at Red Squirrel's sister nursery.
Joyce is one of only five finalists and the only representative from Scotland heading to the awards ceremony in London.
She said: "Since I am the only finalist from Scotland I keep telling myself that even if I don't win the national award I am still number one in Scotland.
"I am hoping I have a good chance of winning the award.
"The kids don't really understand the significance of it but all of the parents are really excited and supportive."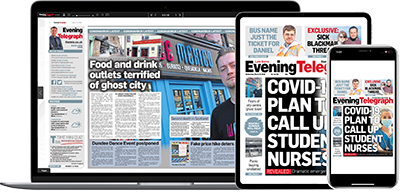 Help support quality local journalism … become a digital subscriber to the Evening Telegraph
Subscribe