The number of people from Dundee University who died during the First World War may be more than double that previously thought.
The official war memorial records 37 staff, students and alumni who died, but university archivist Dr Kenneth Baxter has discovered that far more lost their lives.
His findings are revealed in Tayside At War, a new book published by Abertay Historical Society which explores different ways the war impacted the area and university.
Called University College, it was part of St Andrews University at the time.
Dr Baxter said: "The Great War had an enormous impact on University College. Staff and students flocked to join the war effort, which meant those left behind faced real challenges.
"While the nature of surviving records means that the true number of war dead with connection to the university might never be known, my own research would suggest that the war memorial records less than half of those who died.
"I have come across an additional 39 former students, some of whom were studying at University College when they died, who were either recorded as war deaths by the Commonwealth War Graves Commission or appear on other memorials or rolls of honour."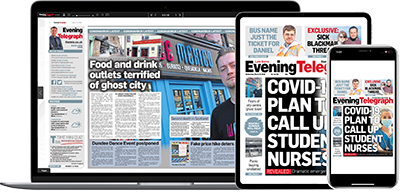 Help support quality local journalism … become a digital subscriber to the Evening Telegraph
Subscribe