Teens across Tayside are being urged not to stress out too much over their exam results.
Dundee and Angus Developing the Young Workforce (DYW) is encouraging anxious youngsters to go easy on themselves when they open up their results on Tuesday.
The organisation is taking part in the #NoWrongPath social media campaign, to show students that disappointing exam results are not the end of the world.
The campaign sees people post selfies online on results day holding a handwritten sign showing their name, what they did when they left school and what they are doing now using the #NoWrongPath hashtag.
The main message behind the initiative is to remind young people that exam results will not decide if you get an interesting job.
Those who left school with little or no qualifications include Simon Cowell, Sir Richard Branson, Bill Gates and Ellen DeGeneres.
Last year, the campaign had reached more than two million people by noon of results day.
DYW's employer liaison administrator, Melissa Craig, is herself an example of succeeding regardless of exam marks.
She said: "I was told not to do anything admin-related because I didn't have a high enough grade when I was in school."
Melissa was also put into a lower qualification admin class but still managed to study admin and IT at college. She is now studying towards her degree in business management at university in her spare time while working.
She said: "If someone doubts me I try to prove them wrong.
"I wasn't too bothered about exam results because I just focused on getting a pass. Even if my friend got an A and I got a C, the fact I have passed is an achievement."
Throughout college, Melissa balanced working part-time and being a mum, saying: "I think the school system and social media adds to the pressure of it all.
"You only see the people who get A grades on the news.
"There are so many alternative pathways to get where you want if you don't get the qualifications you need at school, for example apprenticeships and college.
"There are always opportunities as you learn other skills on the job."
The campaign launch comes after Childline revealed it had held more than 1,000 counselling session for students worried about exams this year.
The Childline centres in Aberdeen and Glasgow also dealt with more than 250 contacts – up by 28% compared to the previous year.
Jayne Laidlaw, Childline manager for the Glasgow base, said: "Children and young people can feel incredible pressure during the exam period and this can turn to extreme anxiety around results time, especially if their marks don't match up to their expectations or hopes.
"They can often think these exams represent their last chance to make something of their lives, but this is not the case."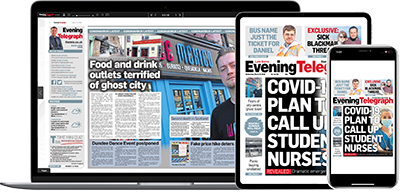 Help support quality local journalism … become a digital subscriber to the Evening Telegraph
Subscribe