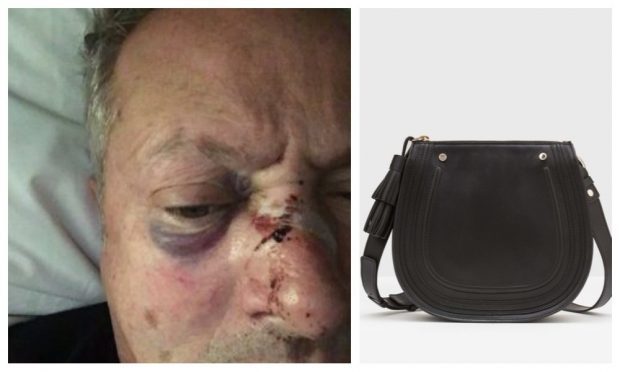 A thug who attacked celebrity chef Nick Nairn as he walked down one of Aberdeen's busiest streets was today fined over the assault.
Scott Smith admitted punching the renowned chef – who runs a cookery school and pizza restaurant in the city – on the head in Union Street on December 22.
The 35-year-old, of Aberdeen, was fined £900 by Sheriff Raymond McMenamin at Aberdeen Sheriff Court today.
Following the attack Nick tweeted a picture of the horror injuries he suffered as police launched a hunt for his attacker.
I was assaulted this morning on union st , walking home from my Cookschool, 2 feisty chaps did this to me and ran off chased by@joolsfor ! If anyone saw anything can u call @policescotland on 101 they were great as were ambulance and hospital services .I'm a bit peeved but fine. pic.twitter.com/b1txwkKAyU

— Nick Nairn (@NickNairn) December 22, 2017
Smith was arrested days later and released on an undertaking to appear at court today, where he admitted carrying out the attack.
Speaking after the assault, Nick told how his partner tried to batter Smith with her handbag as he lay injured on the ground.
Julia Forster belted Smith with her £120 Boden handbag as he made off following the attack.
Nick, 58, said: "She was hitting the guy with her handbag. She's a real have-a-go hero. I remember watching her thinking 'Christ almighty'. You wouldn't cross her.
"Other people saw what was happening and came over to help right away. The guys realised it wasn't a good idea to hang about and scarpered."
Police carried out tests on the handbag, filled with a dog lead, sunglass and keys, in the hope it might have picked up some DNA from the lout.
Julia said: "I think a red mist must have come down. I was incensed. It's a good job it's not a fancy handbag."
Nick told how on December 22 he had visited his restaurant in Aberdeen – packed with festive crowds – and had taken staff for thank you drinks that night.
He and Julia then decided to walk back to their hotel across the city centre before an altercation with Smith and a pal in the city's Union Street.
Nick said: "I think they might have recognised me. I get it all the time so I can be a bit of a smart Alec.
"One of them came running back and landed me a right old punch in the face.
"I fell and hit my head on the pavement and blacked out for a second or two. When I came to there was blood everywhere. It was gushing."
Onlookers rushed to help and one of them put stricken Nick in the recovery position as they waited for emergency teams to arrive.
An ambulance took him to Aberdeen Royal Infirmary for treatment, and he eventually got to his hotel at around 5am.
He added: "I look a mess but I'm fine. The cops and the medical staff were absolutely fantastic.
"As the adrenaline has worn off I realise that I've had a lucky escape. My nose isn't broken, although it looks like it is.
"The scary thing is when you think about what might have happened. Those guys could have been carrying knives.
"I've been in some of the dodgiest cities in the world and nothing like this has ever happened to me before.
"We weren't in some dark alley, we were on a main thoroughfare.
"If Union Street is a bit of a battleground at busy times then maybe the police should put more officers on the street."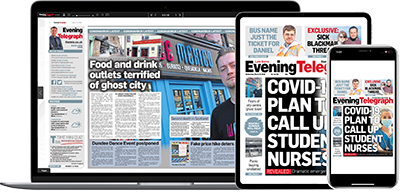 Help support quality local journalism … become a digital subscriber to the Evening Telegraph
Subscribe