NHS Tayside's staff spent charity funds "out of a desire to break-even", the health secretary has said.
Shona Robison was on Thursday grilled by MSPs over the spending of endowment funds to balance the books of the beleaguered health board at a parliamentary committee meeting at Holyrood.
Senior members of the board, including the former chairman and chief executive, resigned in the wake of the scandal.
It was revealed in April that trustees of Tayside's endowment fund, who are also board members, broke their own rules to siphon donations to core spending.
Labour MSP Ian Gray asked Ms Robison why she felt senior managers in NHS Tayside "felt constrained to act the way they had". Ms Robison said: "There was a culture of a lack of openness. I think there was a desire, particularly on the part of the chair, to produce a break-even position.
"If you look at the pressure that appears to have been applied to trustees, in making those retrospective payments, it talks about the consequences of not doing that, for patient care, and there is language used that there would need to be cuts."
Scottish Conservative MSP Liam Kerr said part of an Audit Scotland report he had downloaded pointed to the Scottish Government having knowledge the practice was happening.
However, Ms Robison said: "Grant Thornton is very clear about that in the report, they've looked at all of that and what they've said is NHS Tayside board's external auditor identifies the use of endowment money to support the achievement of financial break-even in 2013/14.
"There is no further commentary on this and no associated action identified."
Mr Kerr then pressed: "It does mean you knew about it. The Scottish Government knew about this, did they not? It clearly says. 'NHS Tayside has rolled the endowment funds into its budgets'?"
However Ms Robison said Grant Thornton, which carried out an independent audit of the health board's finances, had been unable to identify "any evidence" that demonstrates the use of endowment funds was raised and discussed with the Scottish Government.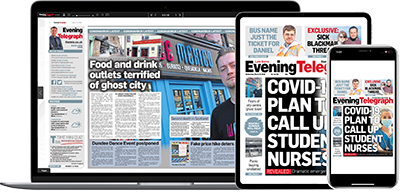 Help support quality local journalism … become a digital subscriber to the Evening Telegraph
For as little as £5.99 a month you can access all of our content, including Premium articles.
Subscribe