Tayside's health board continues to spend more money than it has in its budget – but a new report suggests it is starting to bring its finances under control.
A report presented to the NHS Tayside board yesterday, written by deputy finance director Stuart Lyall, showed the board's savings are £6 million behind where they should be.
However, Mr Lyall said the rate at which NHS Tayside is exceeding its budget is slowing down, suggesting the board is reeling in its overspending.
Mr Gray wrote: "The total overspend for the month of July alone is £0.941m, compared to an average monthly overspend of £1.951m for the previous three months.
"This represents a significant slowdown in the rate of spend across the (health board)."
Among the areas where spending is falling is energy and catering as well as pay – although this is due to a number of unfilled vacancies. However, the health board continues to be plagued with issues of overspending on expensive agency staff.
Finance bosses need to find £48.1m of savings by the end of March next year to keep their long-term savings plan on track.
At present, they have identified £6.8m of savings.
They were expected to have identified almost twice that, £12.8m, by the end of July.
Mr Lyall's report continued: "The results for the month of July show an improved position from previous months.
"The cumulative overspend to date, however, confirms the need to increase both the scale and pace of delivery of efficiency savings plans. These plans are due to be completed by September."
NHS Tayside is to request further bailouts from the Scottish Government to prevent it from slipping further into the red.
The board already owes ministers £45.9m in unpaid loans, but payments have been suspended due to Tayside's ongoing cash problems.
It has been suggested the total owed could rise to £60m.
Mr Lyall concluded: "The board continues to forecast a deficit position for 2018-19, and will require further (Scottish Government) brokerage to deliver financial targets."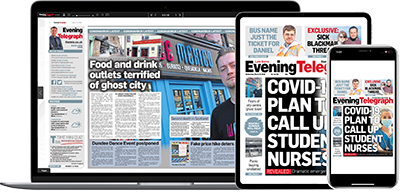 Help support quality local journalism … become a digital subscriber to the Evening Telegraph
For as little as £5.99 a month you can access all of our content, including Premium articles.
Subscribe