Unions and MSPs have expressed concerns about care after it was revealed more nurses and midwives left NHS Tayside than joined the service in the last year.
Data published by NHS Scotland shows that staff turnover in NHS Tayside was 8.6% in 2017-18, compared with a low of 6.2% in 2011-12.
Staff turnover represents the percentage of an organisation's employees that change across a period of time.
The majority of the 1,127 staff that left were nurses or midwives – 594 in all. However, only 455 joined, leaving Tayside 139 staff short – around 93 of which were full-time.
North East Scottish Conservative MSP Bill Bowman said he was concerned about the impact it could have on local care.
"It is very worrying that more Tayside medical staff are retiring or leaving the profession than are being taken on," he said.
"Local people will be concerned whether the level of care they receive will suffer as a result.
"But the health board has warned of this for a long time.
"The SNP Government has been aware of the issue and has not done the workforce planning over 11 years in charge of the NHS in Scotland."
Theresa Fyffe, director of the Royal College of Nursing (RCN) in Scotland, said the figures painted a "clear picture…that the challenges around nursing have never been greater".
She added: "RCN members – the nurses and healthcare support workers on the frontline – tell us that there aren't enough of them to do their job properly.
"In spite of more nursing staff being in post, the vacancy rate remains unchanged and number of long-term vacancies is up significantly on last year.
"The bottom line is that Scotland does not have the nursing staff it needs to care for everyone who requires it in a safe and effective way."
However, George Doherty, director of human resources at NHS Tayside, said fluctuations in staffing levels were "expected", adding: "Our staff turnover rate reflects a range of factors, including a higher workforce age profile amongst those staff working in some of NHS Tayside's services.
"Whenever a staff member leaves a post, local workforce plans are put in place to ensure clinical areas and departments maintain continued safe delivery of services for our patients."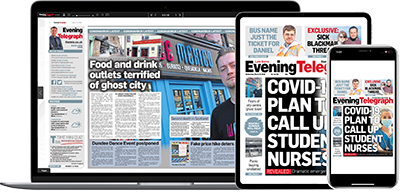 Help support quality local journalism … become a digital subscriber to the Evening Telegraph
Subscribe