NHS Tayside is "determined" to reach the government's target of 60% of staff having flu jabs.
A rallying call to staff was issued after a report submitted to the health board last week revealed only 47% had been immunised.
The figure was described by John McAllion, health spokesman for the Dundee Pensioners Forum, as a "ticking timebomb".
But consultant gastroenterologist Dr Elaine Henry, who is clinical lead for unscheduled care and winter planning, said uptake numbers have almost trebled since 2016.
Dr Henry said: "We have significantly increased the number of drop-in clinics delivered by the vaccination team and occupational health department and these have been very popular with staff.
"We have trained more than 100 staff to be peer vaccinators, which means they can give the vaccine to staff working in their own area and some wards and services have managed to immunise 100% of staff.
"We have also had sessions for care home staff to reduce the risk of frail residents catching the bug and we have a network of community pharmacists who will immunise staff who have an NHS badge.
"Previously we have had a low uptake for the flu jab but due to the work of our vaccination team and the desire of staff to protect themselves and their patients there has been a huge leap in our uptake over the last two years and we have seen a buzz and conversations about flu that we haven't seen before."
About 6,400 staff have been vaccinated in the first two months of the campaign, which still has four months to go.
Consultant in public health medicine Dr Daniel Chandler said: "About half of all NHS Tayside staff have been vaccinated since October, putting us among the leading health boards in Scotland.
"This effort has been led by the public health team and supported by staff from right across the organisation.
"But with several weeks of the campaign still to go, we're determined to reach the target of 60% set by Scottish Government for all health boards and to get us there we need all NHS staff to play their part."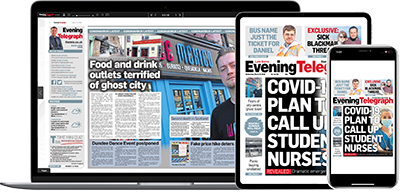 Help support quality local journalism … become a digital subscriber to the Evening Telegraph
Subscribe