Tayside health chiefs have commissioned an independent inquiry into the mental health services delivered at Dundee's Carseview Centre.
NHS Tayside chairman John Brown and chief executive Malcolm Wright made the announcement following a series of complaints from families of people who have received, or been refused, treatment at the facility.
Mr Brown said: "The chief executive and I are commissioning this independent assurance report into how services are delivered at Carseview to address the concerns of some families who have been speaking out about their experiences of mental health services at the centre.
"We will be seeking advice from the Mental Welfare Commission on which external experts would be appropriate to lead this piece of work.
"Our aim is that this report will not only give the Board robust independent assurance that the recommendations of the recent Health Improvement Scotland and Mental Welfare Commission inspection reports are being implemented, but will also provide an opportunity to capture the concerns of the patients and families who use the services.
"If the report highlights any areas for improvement, or flags up issues where we can learn lessons, we will make any changes required immediately."
Mr Wright added: "It's really important that people have confidence in our services and are reassured that they will receive the highest standards of care in the most appropriate place when they need it.
"There has been a lot of work undertaken over the past couple of years to redesign mental health services across Tayside to adapt to the changing needs of our populations and it is important that this redesign work continues at pace.
"This external assurance report we are announcing today will look at the progress which has already been made at Carseview and allow the Board to ensure that the actions we are taking now will deliver the best outcomes for patients and their families in the future.
"We know that all staff at the centre work extremely hard every day to deliver the best possible care and I want them to know that they have our commitment that we will make sure that we are supporting them to be able to provide safe and effective care."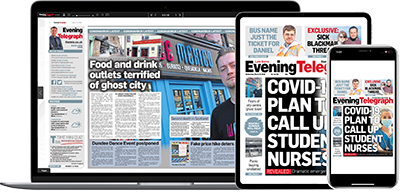 Help support quality local journalism … become a digital subscriber to the Evening Telegraph
Subscribe