The owner of a row of derelict shops on a city street is "actively" looking at redeveloping them – and wants community input.
Glasgow-based property firm Purewal Properties hopes to revamp the Macalpine shopping centre on the corner of Macalpine Road and Camperdown Road, rather than demolishing it.
In a letter to Dundee City Council, representatives of the firm – which has owned the shops for 30 years – said surveys were being carried out on site.
They said the firm was open to consulting with residents on what the block should look like in the future.
The letter said: "My clients (Purewal) have been actively reviewing options for redevelopment of the lower block at the centre (39-49 Macalpine Road).
"In fact, they are currently awaiting an update report from their building surveyors on costings before deciding on the best option."
The letter said a planning team would engage with the council over possible uses – adding any development would likely be for commercial and retail use.
The letter added: "In the interim, I am sure my clients would welcome any constructive input from the community on the type of uses or development that they consider would be beneficial."
Units in the block north of 39-49 Macalpine Road have all been refurbished in recent years but the last block has been left untouched and has fallen into disrepair
The prospect of demolition and rebuilding the site has not yet been completely ruled out.
John Bisset, a community campaigner and Ardler resident, said: "I'm looking forward to seeing new properties and shops and the employment they will bring for local people.
"I believe a lot of work will need to be done inside and it could even lead to the building being demolished – but even if it means rebuilding it is really welcome news."
Ward councillor Kevin Keenan said: "I welcome the news that something is going to be done to redevelop the shops.
"I hope this comes to fruition and we see that area regenerated. We will keep a watching brief on what's happening there and keep it on the agenda of the Local Community Planning Partnership to be discussed again at our next meeting, when I hope there will be a further update."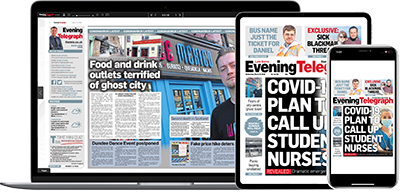 Help support quality local journalism … become a digital subscriber to the Evening Telegraph
For as little as £5.99 a month you can access all of our content, including Premium articles.
Subscribe