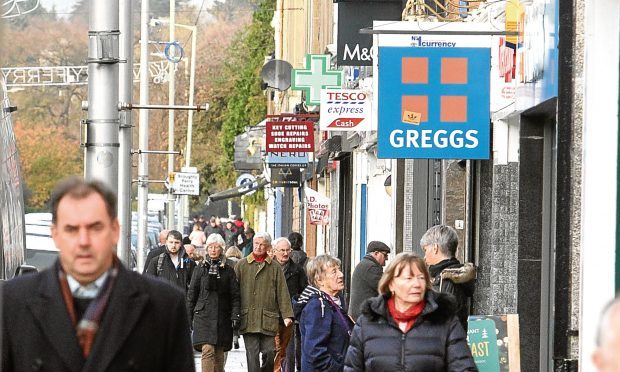 Dundee City Council has earmarked £500,000 to be spent on bolstering district shopping areas in the city in the next five years.
To get an idea of where this money should be spent, the Tele visited four of the city's key shopping areas to get the views of local shoppers and businesses.
In Broughty Ferry, locals believed the area was thriving – but could do with some finishing touches.
Carole Sommerville, co-owner of greengrocers Clementine, said the area was lacking in public toilets.
The 50-year-old said: "They're absolutely essential.
"There are a lot of people who just go into cafes, use the toilet and leave again.
"There are more tourists coming into the Ferry now so there should be some in place."
Retired civil servant Alan Steadman, 70, said money should be invested in encouraging people to set up shop in the area.
He said: "I think generally the area is doing quite well but there aren't as many shops as there could be.
"People should be encouraged to come into the Ferry — it has its own identity."
Stobswell's Albert Street has also been tipped as an area that could benefit from the new cash.
Wendy Sturrock, owner of several local businesses, said the money could be used to boost the area's profile as a centre of commerce.
The 39-year-old added: "The area needs positive promotion — just wee things like being online.
"Some money could also go on improving shopfronts, giving us more litter bins, hiring litter-pickers, and we need more parking too."
Local resident Marcin Goryniak, 39, added: "It's important to shop local.
"That the area looks nice is important. I think there should be more shops as well."
Over in the West End, ensuring people can access the area's burgeoning shopping district remains a priority for local businesses.
Barry Thomson, owner of Pacamara Food and Drink, said the cash could be invested in time- limited parking in Pennycook Lane.
The 42-year-old said: "We have to make the area as accessible to potential customers, rather than just making it look nice with things like hanging baskets.
"A two-hour limit would be more than enough and would get people who say it's difficult getting parked here to come to the area."
Peter Menzies, chairman of the West End Community Council, said ideas such as new street furniture and a map of local businesses were being considered.
He added: "There are great independent shops doing really interesting things here, but unfortunately retailers in the area are having to deal with the problem of parking."
Lochee has received several financial boosts in recent years, including a £2m Scottish Government grant.
However, some feel the area still has a way to go – and could further benefit from this new fund.
Anne Barclay opened her Party Propz business on the High Street three weeks ago.
The 53-year-old said: "The general look of Lochee is quite drab – there's no flowers or anything.
"It needs to be more vibrant and welcoming.
"Some investment is needed in new businesses."
Craig Duddridge, a Lochee resident for almost three decades, said the money should be used to support local firms.
"There was a greengrocers and a family butchers here but they've shut down now,"
Craig, 53, said. "If they'd had some help they could have stayed."