The new chief executive of Dundee Science Centre wants the facility to evolve during the city's regeneration.
Linda Leuchars, 34, who has just started her new role, has revealed ambitious plans to "embrace" the arrival of tourists visiting Dundee's Waterfront.
She took over the reins of the centre yesterday, having worked at the facility since 2008.
The centre opened its doors to the public in 2000 and has already welcomed more than a million visitors.
Construction work will begin on a £2 million expansion of the centre later this year.
Scheduled to be completed next year, the project will see a new interactive exhibition, lecture theatre and classroom and meeting facilities installed.
Given the significant financial investment, the new chief executive said she would like to see more than 100,000 visitors coming through the doors every year.
Last year, 66,000 people — including 10,000 school pupils — visited the centre.
Linda said: "This is the biggest financial investment that has been made in the centre so far.
"Having these new and upgraded facilities will open so many doors to what we can deliver.
"It will increase the number of people we can engage with and make sure we maintain links with people who already use Dundee Science Centre.
"We recognised we needed to upgrade the building and continue to update our programme to encourage repeat visits.
"My aim is to have more than 100,000 visitors a year."
The former Harris Academy pupil, who originally joined the centre as an education officer, said the focus would very much be on working with the community.
She added: "I started as the community engagement officer and it is something for which I still have a real passion.
"I want to make sure the science centre continues in the right direction so we are embedding ourselves as a valuable community resource."
Linda said the centre intended to work with more organisations to show that science isn't an isolated discipline.
She added: "We already work with a number of organisations but this is one of our big plans for the future.
"We want to work with the V&A, DCA and the Rep Theatre on a co-ordinated programme across the city."
Linda believes the investment in the centre would have happened regardless of the Waterfront development.
She added: "The Waterfront development opens so many different opportunities for the city, including ourselves.
"Looking ahead, the only thing that limits us now is the building itself and that is why we are changing it.
"Once we have completed that we will have so much more we can offer the city as a whole."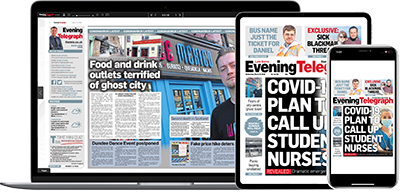 Help support quality local journalism … become a digital subscriber to the Evening Telegraph
Subscribe