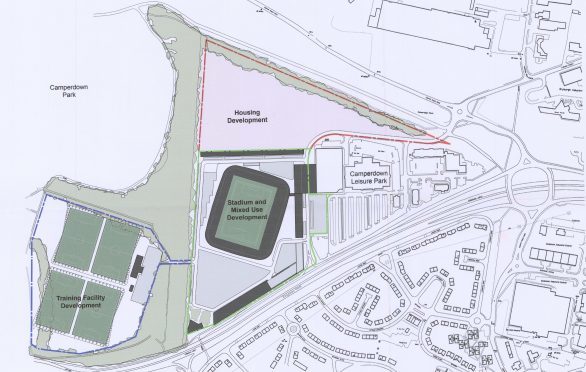 A planned football stadium at Camperdown will only go ahead if all of the surrounding developments – including a crematorium – get the green light, Dundee FC chief John Nelms has said.
The Texan made the comments as the public had a chance to give their view on the proposals.
From 1pm today, the plans went on display at the Dundee Ice Arena.
A good turnout of fans and other members of the public initially attended with the consultation open until 8pm.
Residents have now been invited to review the plans and voice their opinions as part of the pre-application consultation process.
As well as a presentation, there will also be a chance for locals to talk to Dundee FC representatives to find out more about the site itself.
A detailed blueprint of the club's proposed development — earmarked for land to the west of Camperdown Leisure Park — was recently published by architects LJR+H.
As well as the 15,000-capacity ground, the Dee's new complex would also include housing, hotels, shops and a crematorium.
The land for housing would be set to the north of the new stadium, alongside Dundee Ice Arena.
Up to 70 flats and 140 houses could be built on the site, potentially changing the landscape for generations.
Community facilities, such as restaurants, a gym, a creche and a 7,500 sq/m commercial zone would provide amenities for residents alongside the existing leisure park.
A spokesman for LJR+H told the Tele: "Members of the public are invited to drop in at any time during this period, when they will have the opportunity to review preliminary drawings and talk to representatives of the applicant to find out more about the site, the initial strategic proposals and the processes involved in preparing the planning application.
"Feedback leaflets will be available at the venue to allow submission of comment.
"The leaflets can be returned at the presentation or forwarded to LJR+H Architects no later than October 16.
"The presentation will set out initial thoughts on a new home for Dundee Football Club, designed to meet the needs and aspirations of the 21st Century game.
"The decision to move from the club's historic home at Dens is not being taken lightly, but is based on a growing awareness of the present and future limitations of the existing facilities at Dens Park and their inability to support the evolving needs of a modern football club."
In a Tele poll last week, out of 200 readers who participated, 69% said they welcomed the plans.
Dundee Football Club was approached for comment, but has yet to respond.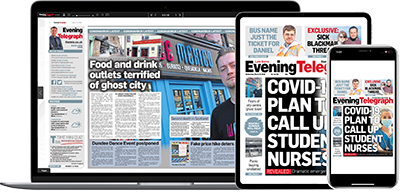 Help support quality local journalism … become a digital subscriber to the Evening Telegraph
Subscribe