A new Dundee charity is aiming to help people who can't afford to pay for funerals.
Funeral Link has been set up to help people affected by funeral poverty in some of the most deprived areas of the city.
The move comes after the Dundee Funeral Poverty Action Group found that increasing numbers of people are unable to afford the costs involved, with research showing the average price of a funeral is £3,500.
Service manager Linda Sterry said: "We're trying to avoid people getting into debt as research has shown that is happening to a lot of people.
"We don't really know what people are going to find difficult until they come to us.
"We've had commitments from lots of partners and community centres throughout Dundee, so we will take ourselves into the communities who need us.
"People can come to us to ask about how they finance a funeral or even logistics because most people who are planning a funeral have never done it before. It can be a very daunting and overwhelming experience."
Linda added: "It's about giving people choices about what is out there because when you're bereaved it's really difficult to think straight.
"Many people find themselves making decisions before they realise just how much it will cost. The second part of what we're here to do is about making it less taboo and opening up the conversation around death and preparation for it."
But running the charity has not come without its own costs, as Linda revealed funding from the Social Innovation Fund, which comes from the Scottish Government and the EU, has only been secured until June.
Staff will then have to attempt to secure enough funding to keep the service going.
Linda said: "Myself and the whole team are very aware that the need is there, so it's down to us to make sure we manage to sustain funding at a time when it's very difficult.
"We're working on the basis that there may not be another phase of funding and we're trying to make plans. We'll also be working in partnership with hospitals and bereavement services. We've reached out to local funeral directors and had good conversations with some who really want to help the community. They are Dundee businesses who want to do the right thing."
Anyone who needs support from Funeral Link is asked to get in touch on 01382 458800.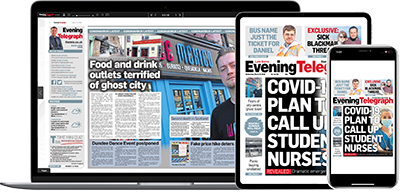 Help support quality local journalism … become a digital subscriber to the Evening Telegraph
Subscribe