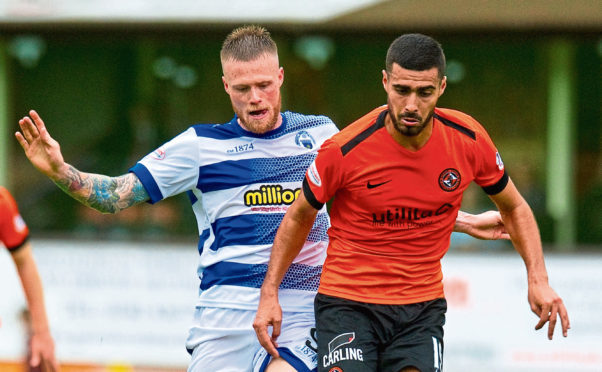 Dundee United defender Rachid Bouhenna insists they must repay the fans for their support with a win at Falkirk on Saturday.
The French-Algerian centre-back made his United debut in their disappointing 1-1 draw with Morton at Tannadice at the weekend.
The Terrors now travel west for a crucial Championship tie after captain Fraser Fyvie, returning from a long-term injury off the bench, salvaged a point with a last-minute strike against Jonatan Johansson's side – who took an early lead through a Michael Tidser penalty.
And Bouhenna says they will do everything they can to pick up three points and get the Arabs back onside ahead of, what he insists is, a continued promotion push.
"Of course for Dundee United the objective is to go to the top league, the Premiership, so we have to win these games at home and get results away," he said.
"Saturday we lost two points, we need to win the supporters back this weekend at Falkirk and I hope next year we will play in the top tier.
"The fans were amazing, we need them for the rest of the season and I think they are behind us.
"After the game I thought it was a good game but we had many chances to score and didn't take them.
"It's good to come back to draw but for the next game we have to win if we want to stay near the top of the Championship."
Despite hauling down Gregor Buchanan for the penalty which Tidser converted to give the Ton the lead on 11 minutes, Bouhenna was pleased with his first run-out in tangerine.
However, The 27-year-old was not happy with referee Colin Steven's call to award the spot-kick after the tussle with Buchanan at a corner and Bouhenna expressed his surprise given the physical nature of Scottish football.
He added: "It was an OK debut I think.
"Only really the foul for the penalty – I can't believe it.
"I don't think it was, he did not have the ball and we are in a duel but I don't know why.
"It was not just the penalty, it was every ball the referee whistle against us.
"It is not like Algeria or France, for sure.
"It is more physical but Morton was a very physical game – that is the big difference and I think we can play more football at home.
"Away it will be very difficult, you saw in the last game at Alloa you can't play because of a difficult pitch but at home we have to play more.
"Next game it will be very difficult when we play against Falkirk, so we have to get used to this."
Bouhenna is still settling into life in Dundee and getting to grips with the language – not to mention the accent.
However, he still feels at home after being welcomed by everyone at the club.
Skipper Fyvie, in particular, impressed the big defender with his influence on the side when he entered the fray on 73 minutes.
The 25-year-old changed the game and got the equaliser with a ferocious half volley in second-half stoppage time.
"Fraser has the experience, when he come on to pitch he helped us.
"He is good for us and I hope in the next game he can continue to help us if he is in the starting XI or comes on to the pitch.
"I am enjoying being at Dundee United, I am feeling very good.
"My team-mates and everybody at the club have been very nice, they feel like family and I am very happy with it.
"With the manager and the team-mates it is very good but we have to keep going, keep working and think about the next game."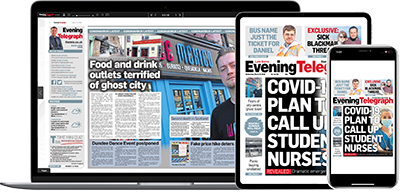 Help support quality local journalism … become a digital subscriber to the Evening Telegraph
For as little as £5.99 a month you can access all of our content, including Premium articles.
Subscribe