Coastal flood defence work costing half a million pounds will start in Broughty Ferry this month.
The flood works — part of a city-wide effort to protect Dundee against the threat of an overflowing Tay — will extend from Bridge Street up to the city council's border with Angus.
The "rock armour" style of revetment defences — sloping structures designed to absorb the impact of rushing water – will stretch for about 500 yards along the Ferry coastline.
Mike Galloway, executive director of city development at Dundee City Council, said the work would "protect the coastline from erosion and provide flood protection".
Homes at the highest risk along the stretch in Barnhill include dwellings on Collingwood Street and Collingwood Place, which are closer to the water than most other homes in the area.
Other homes further away from the coast on higher land are designated as lower risk in the local flood risk management plan published in 2016.
Construction of the Barnhill defences is expected to start this month, according to papers published by the council ahead of the next meeting of the city development committee.
The total cost of the project is expected to be just under £556,000, with funds for the scheme coming from the council's coastal protection fund.
Consultation is still ongoing for coastal defences in the centre of Broughty Ferry, with work expected to start on those later in the year.
Ferry councillor Craig Duncan said locals are in the process of being contacted by the council over the main works – so they will have an opportunity to have their say.
He said: "All residents and landowners should receive letters informing them of their right to object.
"All of these works, including those at Bridge Street, are to do with coastal protection but the main Ferry works are still out for consultation."
The main Ferry works will be created in three phases — the first from Douglas Terrace to the lifeboat station, followed by another section up to Fisher Street and a final segment up to Beach Crescent.
The defences will then resume after Broughty Ferry beach at Bridge Street, carrying on into Angus.
It is thought the main Ferry works will start no earlier than September, as the works extending to the Angus border will end in August.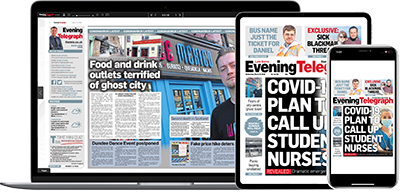 Help support quality local journalism … become a digital subscriber to the Evening Telegraph
Subscribe