Work on a new £20 million hotel and restaurant is set to start early next year.
Structured House Group has revealed more details about its plans to convert the former Robertson's Furniture Store on Barrack Street, which has lain empty for many years.
The project will create a six-storey hotel – with 115 beds – which will be set back from the retained tiled facade.
There will also be a separate six-storey hotel building to the west with another 100 beds.
Craig Inglis, chief executive of Structured House Group, said: "We are progressing with our plans to invest £20m on the site of the former Robertson's furniture store on Barrack Street since receiving planning permission early this year.
"Dundee is a thriving city and with the opening of the V&A we expect our new hotel and restaurant to be a welcome addition to what the city has to offer."
Mr Inglis said the premises will operate as a BOHO hotel – the first of its kind in the UK.
BOHO is the property management arm of the company, which retains ownership of its buildings and manages them in-house.
He said: "We have chosen Dundee to be the site of our first BOHO in the UK with many more to follow.
"It will be operating as one hotel, together with our licensed ground-floor restaurant.
"There are already other BOHO developments but this will be the first BOHO hotel in the UK.
"We have been working with experts to preserve the existing art deco facade and retain the character of the building to bring this development site back to Dundee and to Dundonians.
"The next stage of our development will be the appointment of a contractor which will bring construction jobs to the city with an expected start date of early next year.
"In terms of jobs, we are looking at 12 internal staff, while the restaurant will be 18-24 staff.
"That doesn't include local suppliers and service providers."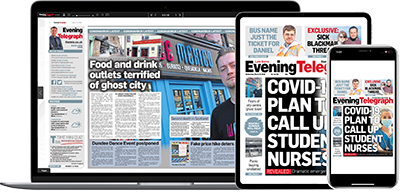 Help support quality local journalism … become a digital subscriber to the Evening Telegraph
Subscribe