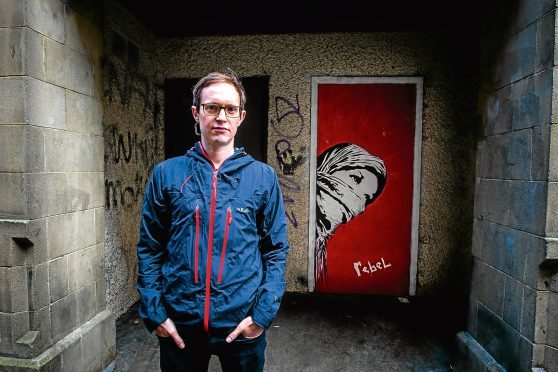 Neglected doors in a city neighbourhood will become works of art next year thanks to £6,000 of funding.
OpenClose Dundee has already painted 18 pieces of artwork on doors around the city centre.
The organisation has now received funding to rejuvenate up to 20 doors in Stobswell.
Project organiser Russell Pepper, 32, told the Tele: "When we created OpenClose, the initial idea was to go into communities where improvements are needed, such as Hilltown, Lochee, and of course, Stobswell.
"For our first project, it seemed to make sense to complete some work in the city centre to see how people reacted to the doors.
"It is fair to say everyone has been incredibly positive about the work and we have received a lot of interest in our tours — which take place on the first Saturday of every month — and buying our maps.
"Following the success of our city centre project, Colin Clement, of the Stobswell Regeneration Forum, got in touch saying he'd love us to do some of our work in Stobswell."
The project received £4,500 from the forum, while the NHS Community Innovation Fund provided £1,500.
Russell said: "With a total of £6,000, we will be able to pay each artist who provides a piece of work this time which will be great."
With the artwork expected to prove a big attraction, Russell said OpenClose is aiming to highlight landmarks in the local community.
He said: "We really want to highlight prominent locations, such as a chip shop that has been in the area for more than 100 years.
"We want to bring in people not just from Dundee, but from outside of the city to different communities. It will be especially important when the V&A opens. We want people to see that there is more to the city than the Waterfront."
The work will be chosen by the Stobswell community.
Russell said: "We are looking to apply for permission to work on more doors than we need.
"We will then ask the Stobswell community to pick out areas in which they would love to see the work placed and also give them a choice of artwork that can be done. We really want it to be a community-based process."