Shoppers looked on in disbelief as an alpaca went walkabout in Dundee at the weekend.
The woolly creature, named Casper, stopped by a bakers in Mid Craigie as he took a break from a visit to a nearby community centre.
The eight-year-old was standing in for Rudolph the reindeer as he and Santa Claus paid a visit to the first-ever Christmas fair to be held at the Brooksbank Centre on Pitairlie Road.
And as well as entertaining everyone who went along to the fair, Casper had locals rubbing their eyes in disbelief when he went for a wander up Pitkerro Road on Saturday.
Accompanying Casper on a bun run to Bayne's the bakers was Todi, a Swiss Valais Blacknose sheep, and therapy dog Kumiai, an Akita.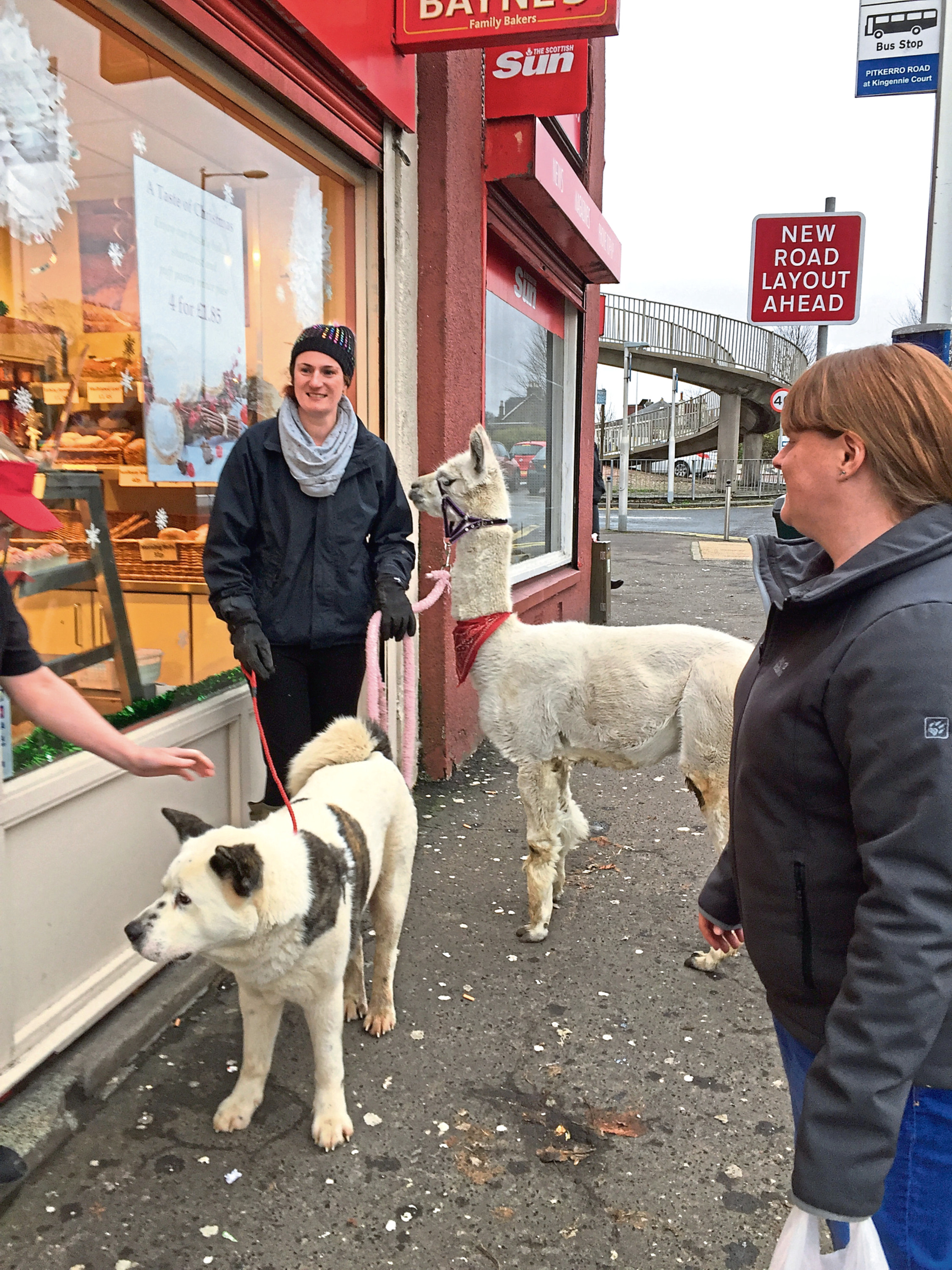 Ginny Lawson, manager at the Brooksbank Centre, said Casper had been a hit with the crowds.
She said: "He proved to be very popular with everyone, especially the children.
"It was so good to see so many people coming to a wee centre out in a scheme and smiling.
"Casper was the star attraction and helped us to raise more than £800."
Casper, who is deaf, lives at Saddle Up Ranch in Forfar.
Ranch founder Jessica Probst said: "We run the charity allowing disadvantaged people to have access to, and learn from animals.
"We were walking up Pitkerro Road was to pop into Bayne's where they gave us cakes for Brooksbank community centre.
"It was the busiest it's ever been, there were fantastic stalls this year and I think we made a lot of people's day getting to handfeed an alpaca.
"We love to make people smile. " Umar Hagat, owner of Umar Convenience store, next to Bayne's, said: "A few people have been in this morning saying: 'Wow, there was an alpaca outside of your shop!'
"It was so surprising to see an alpaca around here."
A Bayne's employee said: "I was surprised to see it. I've never seen so many heads turning in my life."
Casper was a hit on social media, with many people believing he was a llama.
One Twitter user wrote: "Seeing someone going round Dundee today with a llama is one of them things that I'll miss about Dundee."