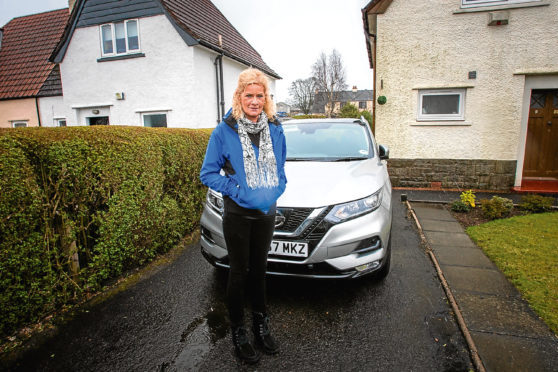 Dundee woman Anne Dougan is keen to trace the mystery hero she believes saved her life and averted a potential disaster on the Kingsway.
Anne, 57, from Bruce Road, said the unknown man leapt into action when the automatic handbrake on her Nissan Qashqai slipped, sending it on a collision course on the dual carriageway.
She said the man potentially saved her life, as she had flung herself behind her runaway car in a desperate bid to stop it.
Anne, an NHS podiatry worker, was on her way to a golfing session in Fife on Thursday moring and stopped at Caird Park filling station to withdraw money from the cash machine.
She said: "As I walked to the bank machine I looked around to see my car rolling down the slope towards the Kingsway.
"Without thinking I ran behind it to try to stop it but it kept on rolling. It's a pretty big car and I realised it could run me over.
"I was terrified, screaming for help and shaking like a leaf. Then out of nowhere a man who had been withdrawing money dashed towards the car and threw himself into the passenger door.
"He somehow managed to halt the car in its tracks. I have no idea how he did it but I am so very grateful that he did.
"I dread to think what might have happened if he hadn't managed to stop the car. He acted so quickly, without any thought for his own safety.
"To my mind he was a real hero. However, I have no idea who he was. I was so upset and shaken at the time that I didn't think to ask his name.
"I tried to thank him but he was very humble, said it was nothing and just got on with his business."
Anne said that while he was helping her the man's bank card was swallowed up in the machine.
"I offered to pay for his fuel or give him money but he said not to worry. At that point I would have bought him the shop."
Anne said the man was wearing a green tee-shirt and was driving a black car, possibly an estate model.
"Someone must know who he is," she said. "Or maybe it's been caught on CCTV at the filling station.
"I hope someone can tell me who he is so I can thank him properly."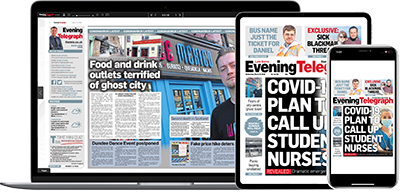 Help support quality local journalism … become a digital subscriber to the Evening Telegraph
For as little as £5.99 a month you can access all of our content, including Premium articles.
Subscribe