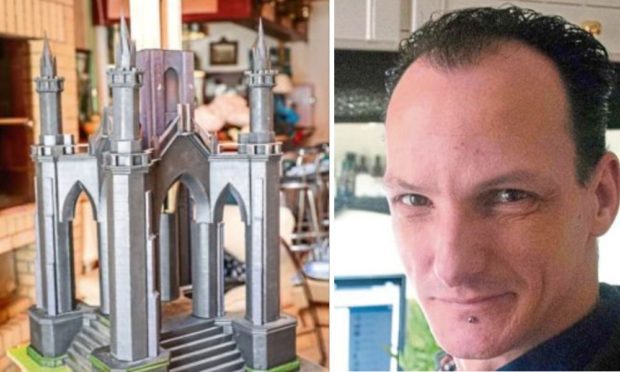 An unfinished sculpture by a murdered artist has been discovered in the flat where he was killed.
Joiner Rick Diamond found an incomplete scale model of Edinburgh's Scott Monument after being asked to empty the former home of Jeroen van Neijhof.
Mr van Neijhof, 38, was stabbed to death by John Styles at the property in Brown Constable Street in the city's Stobswell area on May 23.
Rick, from Craigiebank, described the artist's unfinished wooden carving as "a masterpiece".
"I don't know how he did it, the man was a genius," said 74-year-old Rick.
"It's a beautiful thing. It is very well done and everything fits perfectly.
"It is very detailed. The top bit is unfinished but somebody probably could finish it. But if you dropped it, it would be a bundle of firewood, it's that fragile."
Rick believes the work had been commissioned by a mystery buyer, and hopes that whoever originally wanted the piece will come forward to claim it.
Rick said: "It's a bit of a mystery, there is no paperwork in the house or anything.
"We'd prefer the person who commissioned it to come forward.
"It must have been of some importance to someone. Maybe it's a body of people that's wanting it done.
"If nobody owns up, we'll just donate it to a trust in Edinburgh."
Originally from Apeldoorn in the Netherlands, Mr Neijhof was a professional artist and sculptor and also produced paintings from his studio, selling them online for hundreds of pounds.
His works include pictures of cats, owls and an ice dragon.
Last week Styles, 21, was locked up for life with a minimum sentence of 15 years after he admitted stabbing the artist 19 times in a frenzied, drug-fuelled attack.
The High Court in Edinburgh heard the pair had gone back to Mr van Neijhof's flat on May 23 to take drugs, including ketamine and MDMA.
Styles became angry that Mr van Neijhof was unable to give him heroin, and subjected him to a brutal assault, leaving him with head trauma and multiple knife wounds.
Styles fled while still heavily under the influence of drugs and went to the home of his ex-partner and said he had done something "bad" and had "danced all over his (Mr Neijhof's) head".
Styles, who was homeless at the time of the killing and had been begging outside the Co-Op on Albert Street, had been on bail for a separate robbery involving a knife.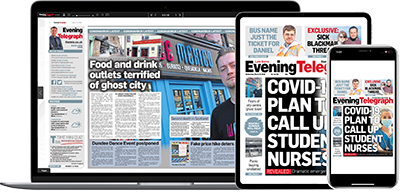 Help support quality local journalism … become a digital subscriber to the Evening Telegraph
Subscribe