The latest addition to the Open/Close Project in Stobswell has been completed by artist Michael Corr.
Michael (pictured at work) spent two days in Langlands Street completing the image which is a tribute to suffragette and social campaigner Ethel Moorhead.
Michael said: "I'd been following the Open/Close Project on Instagram and chatted with them about being involved.
"Project organiser Russell Pepper got in touch about the spot in Stobswell and then we went from there.
"Open/Close chatted to the Stobswell Forum and we agreed a portrait with links to the area would be fitting. This year marked 100 years of women's suffrage.
"Ethel Moorhead – known as the 'most turbulent' of suffragettes – had lived and campaigned in Dundee at the time and seemed like the perfect choice.
"The reaction has been really positive so far. Her face isn't the most well known in Dundee history, and it's been good to talk to passers-by about who she was and the work she did."
Forum chairman Colin Clement said: "It's great for the area."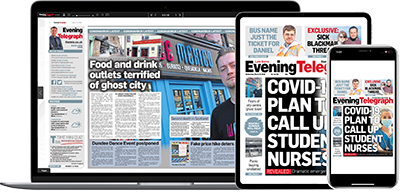 Help support quality local journalism … become a digital subscriber to the Evening Telegraph
Subscribe