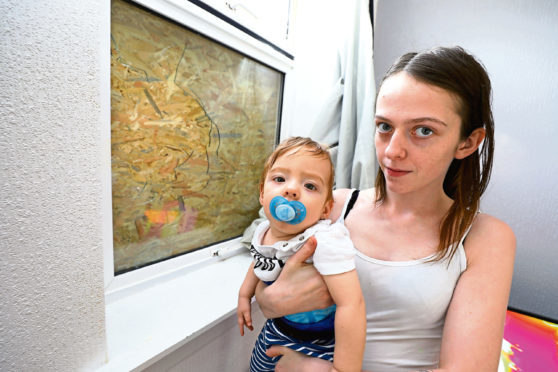 A young mum has described the terrifying moment a brick smashed through her window and landed only inches from her baby's head.
Roxanne Montague was in her living room with her 11-month-old son Mason when the object came crashing into her home.
The 21-year-old said she had heard shouting outside her house on Ballantrae Road in Douglas moments before the missile smashed through the glass.
Roxanne said: "It was terrifying. My heart has never beaten so fast.
"My baby could have been killed. The brick landed inches from Mason's head.
"Shards of broken glass from the broken window also came flying towards him.
"Instinctively I just flung myself across his body to try to protect him.
"I hadn't a clue what was going on and was terrified that the brick might be followed by another one or by more missiles.
"I have never been so scared."
Roxanne said the brick was thrown by a woman who she had seen shouting outside at someone.
"The next thing she pushed over a garden wall and picked up a brick that had fallen off," she added.
"Then she hurled it towards my house. It was a dreadful thing to do to anyone.
"I dread to think what might have happened if the brick or the flying glass had been only a few inches closer to Mason.
"He could have been killed or seriously hurt.
"How anyone could do something like this with an innocent baby in the house is just awful.
"I was shaking like a leaf afterwards.
"I was so scared and little Mason was so upset by everything.
"I called the police and they immediately came to the house."
A spokesman for Police Scotland said: "We attended at an address on Ballantrae Road in the early hours of Wednesday morning in response to reports of an assault and a vandalism.
"A number of witnesses were traced and spoken to.
"Officers are following a positive line of inquiry and the investigation is continuing."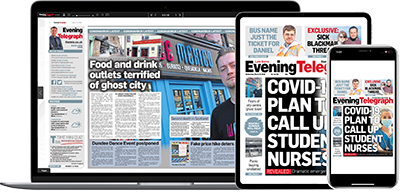 Help support quality local journalism … become a digital subscriber to the Evening Telegraph
For as little as £5.99 a month you can access all of our content, including Premium articles.
Subscribe