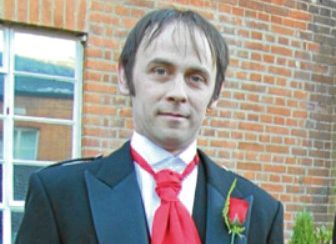 A HEARTBROKEN mum today told how her late son fought right to the end after being diagnosed with cancer.
Christopher McPhee, 36, contracted lung cancer, which later spread to his brain.
The illness was only discovered after he sought help for a pain in his shoulder.
Speaking from her family's home in Montrose, Christopher's mum Ruth Stamp, 56, told of her sorrow at having to say goodbye to one of her children.
She told the Tele: "Christopher never really wanted to acknowledge the cancer and continued to take each day as it came and lived life to the full.
"He was a fantastic son and brother and we are going to miss him so much.
"You really don't expect to have to bury a child. I can't say we are coping but we are just taking it a day at a time, the way Christopher was doing.
"Christopher fought the illness to the end — he remained stubborn, kept his sense of humour and would often have the district nurses laughing with him when they came to see him."
Christopher, who studied horticulture at Angus College in Arbroath and worked at the town's recycling centre, died in Montrose Royal Infirmary on Monday with Ruth, brother Daniel and sister Susan at his bedside.
He had been diagnosed with lung cancer in January and in May was given the devastating news that the cancer had spread to his brain.
Despite five cycles of chemotherapy and radiotherapy, he lost his battle with the disease.
Ruth said Christopher, whose 17-year-old daughter Morgan lives in Arbroath, first complained of pain in his shoulder around a year ago.
Not long after, he went to live with his dad, Colin McPhee, in Reading. It was while he was there that cancer was diagnosed and Christopher decided to move back home to live with his mum. She said: "Christopher received chemotherapy at Ninewells Hospital and after he was told it had moved to his brain he was also given radiotherapy.
"At that time he became more unwell. His mobility was affected, he became confused easily and he slept a lot of the time. It wasn't nice to watch but Christopher managed to keep me positive a lot of the time."
Christopher then moved in with his brother Daniel, who became his principal carer.
She added: "Christopher never really wanted to speak about the possibility of dying, he just said he wanted to get on with things.
"I think he knew how ill he was but he never wanted to acknowledge it."
He was moved to hospital in Montrose on July 31 and died there just over a week later.