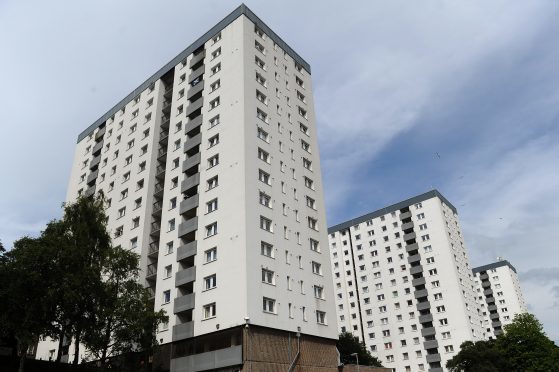 Images of the raging inferno in the Greenfell Tower block in London have shocked the nation.
And for the hundreds of people living in high-rise blocks across Dundee, it has brought home the issue of safety in their homes.
Some have remained defiant and determined to plough on with life as normal — having lived in the city's famous multis for decades.
But many others have concerns about a similar incident happening here, and how they would get out in the event of a serious fire.
When the Tele visited multis in the Hilltown, we found most of those we spoke to were worried.
Daniel Adamson, 44, who has lived on the top floor of Tulloch Court for 13 years, said: "I'd be lying if I said I don't have concerns about fire safety.
"In terms of the cladding I don't worry as it's not the same material as in London.
"Our cladding can withstand heat of up to 1,000C we were told when it was installed.
"If there's a fire here we're told to go onto our verandas if we are trapped, and be rescued from there by a crane. But there's no way I would climb off the 14th floor. Also, the one bedroom flats don't have a veranda.
"The lift doesn't go to this floor either, which is a major design flaw. Although you're not meant to use it in the case of fire, if the fire was blocking the stairwell I would, but I don't have that option."
Gary Featch, 38, who is on the sixth floor of the building having moved in last April, told the Tele: "The video of the fire in London was shocking. It looked like the World Trade Centre attacks.
"You know the risks when you move into a multi but you don't really think it'll happen to you.
"I'm only five floors up but it's still far too high if something did happen. If you're trapped you're trapped, and I have no veranda to be rescued from."
Mandy Taylor, 31, a single mum-of-one, said she feared for the safety of her son and her cats.
She said: "Since the fire in London my family has been asking about it, saying they are worried about us.
"There should be an external fire escape on the side of the building because at the moment there's only one way to escape. It'd be terrifying if me and my son Jordan and cats were trapped."
However Jim Killorn, 66, a retired soldier, said he "hadn't lost any sleep worrying" about the issue.
He said: "I feel safe. I've lived here for 20 years and I think it's fine. There was a fire not long ago at the top on the other side but it wasn't a big fire and it was contained to the flat.
"People are going to be worried about what happened down south but I've not even thought about it or lost any sleep worrying about us here."
Kevin Cordell, the city council's neighbourhood services convener, says he's met with council officers and has been reassured that all insulation materials on Dundee's multis meet rigorous national safety requirements.
He added: "There have been fires within flats at multi-storey developments in Dundee where the insulation/cladding has been exposed to flame with no notable spread of the incident.
"Our multi-storey properties are covered by smoke detectors and have fire doors where required. The flats in all blocks are self-contained units and fire doors and smoke detectors are in place.
"Scottish Fire and Rescue Service carry out home fire safety visits at tenants' request, and the council recommends these to tenants.
"However, I can reassure folk that the council is in direct communication with the fire service to find out if, in the light of the events in London, there is any immediate guidance or advice to landlords."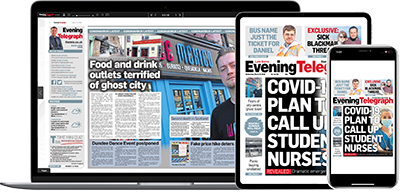 Help support quality local journalism … become a digital subscriber to the Evening Telegraph
Subscribe