A local MSP has called on Dr Drew Walker to give evidence to the Dundee Drug Misuse Commission, following news he had resigned from his role on the new panel.
Dr Walker, who has served as the chairman of the Dundee Alcohol and Drug Partnership (ADP) for years, cited "competing work priorities" in his decision to step down.
He was not in attendance at the third meeting of the commission, held at the DCA on Wednesday.
Jenny Marra, who is based in Dundee and represents the North East region at Holyrood, said it was "expected" that Dr Walker would give evidence, and she was very disappointed he had since resigned.
The Labour MSP said: "Dr Walker must give evidence to the Dundee Drug Misuse Commission because he was in charge of the ADP for all those years.
"He must share what has gone wrong and his experiences in that role. I think he is obliged to do so because he is still director of public health and therefore the commission's work is still part of his remit. I think it is expected of him to give evidence at another meeting."
Dr Walker said the timing of his resignation would give the new leader an "opportunity to settle into the role".
He added: "I have been finding it increasingly difficult, due to competing work priorities, to commit as much time to my role as chairman of the ADP as it deserves. It has not been possible for me to attend a meeting of the commission, or to attend one in the near future, due to a combination of annual leave and other work commitments."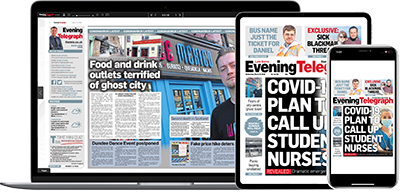 Help support quality local journalism … become a digital subscriber to the Evening Telegraph
For as little as £5.99 a month you can access all of our content, including Premium articles.
Subscribe