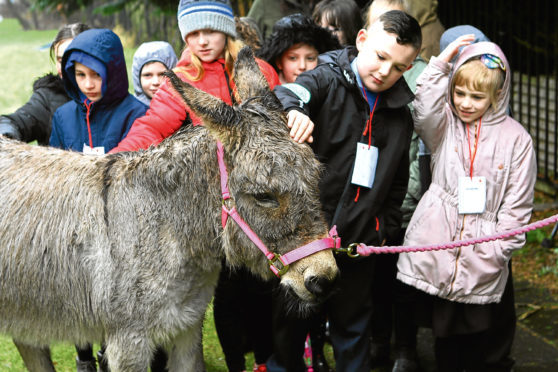 A donkey has been turning heads in a Dundee neighbourhood after becoming the star of a church's Easter celebrations.
Eight-year-old Esau became a big attraction as he made his way to Downfield Mains Church on Haldane Street this week.
Motorists have even pulled over to take pictures of the animal on his journey through Downfield.
The donkey was invited to attend the church as the story of Palm Sunday was told at the weekend.
Esau has continued making guest appearances at the church since then and been wowing the crowds who have greeted him.
Palm Sunday service tells the story of Jesus returning to Jerusalem a week before his resurrection.
Esau was pictured going past the Downfield General Store on Sunday before fulfilling his religious obligations at the church.
Speaking to the Tele his owner, Tara Hunter from Coldside, said drivers were stopping and taking photos of Dundee's newest star.
Tara, 23, said: "We got Esau from a farmer who was needing to rehome his animals due to ill health.
"So he's now keeping my older pony and Shetland pony company in our field at Bridgefoot.
"He was taking part in Palm Sunday at Downfield Mains Church — this is why he was seen walking in the area."
The mother-of-two added: "We walk the horses around there all the time and nobody has ever bothered.
"People were stopping in their cars and hanging out their windows to get a photo."
News of Esau's arrival sparked considerable chat on social media.
Tara added: "As for online, it was rather amusing to see it on the 'Meh Dundee' site and seeing how many people thought it was strange.
"If you walk a horse, why can't you walk a donkey?
"The church recently got a new minister, Nathan, who is very enthusiastic and trying to hold events to involve more children.
"With one of the tales involving a donkey who carried Jesus into Jerusalem, we offered Esau to assist with the story-telling."
Tara, an officer in the 42nd Boys Brigade Battalion at Downfield Mains, added: "Esau has been loving all the attention and the kids have been loving it.
"I never thought a donkey could cause such a fuss.
"It has been amusing seeing pictures of Esau appearing online.
"It's been a hectic week for him — he'll be taking some time to himself now and rewarding himself with lots of apples and carrots. But he has really enjoyed all of the attention."