A Dundee mum is warning other parents to be cautious after her seven-year-old son found a discarded needle while on his way to school.
Keshia Prescod, 26, was walking with her children to Craigowl Primary from their home in St Boswells Terrace.
Keshia said that Logan had pointed to a needle lying on the ground and asked her what it was.
"I was horrified to see the discarded needle lying in the open and warned him not to touch it," she said.
"I was clear with him that it would be dangerous to touch this and if he did it could make him very ill."
This discarded needle was discovered while Logan was walking to Craigowl Primary SchoolKeshia said she was thankful none of her four children had picked up the needle.
She said: "My two-year-old, Nova, was in the buggy at the time. She is normally running alongside the buggy and is very inquisitive.
"If she had been walking and spied the needle, there is a good chance she would have picked it up. That wouldn't bear thinking about.
"Many children walk this way to school and any one of them could easily have picked up this needle.
"I was particularly concerned because my oldest child, Jaden, has just been given the all-clear after pricking his finger on a needle in October last year. He had to have blood tests to check for hepatitis and HIV.
"Jaden also had to have monthly injections in case he had contracted anything.
"It was so worrying. I would hate to have to go through all that again. Fortunately, I was with my children when they saw this needle.
"Some older kids might be on their own and tempted to pick it up.
"I just wanted to warn parents that it was there and to ask them to tell their children not to go near anything they find."
Keshia also called on the city council to ensure that things such as this are regularly picked up to keep areas safe.
"This is a problem that seems to be growing," she said.
"It would be dreadful if a child was pricked with a needle discarded by a drug addict.
"I've heard other parents complaining that they have seen discarded needles in the area."
A council spokesman said: "We have members of staff who deal with drug-related litter and with the problem of used needles and other drugs waste which has been inappropriately disposed of.
"We work to reduce the amount of needle litter by identifying problems areas through reports received about discarded needles. These areas are then targeted to raise awareness and identify the people responsible so they can be educated on the best way to dispose of their used needles safely.
"No one should attempt to lift a discarded needle themselves. A single phone number can be used 24 hours a day for a rapid response to remove a potential danger. It is 01382 433063."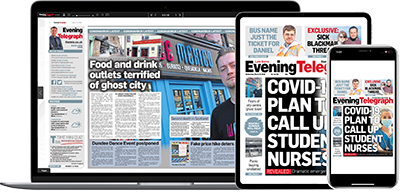 Help support quality local journalism … become a digital subscriber to the Evening Telegraph
Subscribe