More than half of Dundonians who use public transport are struggling to afford peak fares.
A poll revealed people who use public transport from Dundee are delayed on average twice each week, with 87% of respondents calling peak time the most uncomfortable time to travel.
The research, compiled by Censuswide Scotland, showed more than three-quarters of Dundonians using public transport think it is unfair to charge more for a peak fare than it is for an off-peak fare.
Commuters at Dundee railway station agreed with the findings. Josh Miller, 23, a barista who travels to Dundee from Carnoustie, said: "I think the buses are OK if you get a weekly or monthly ticket but they are not advertised well enough.
"Rail fares are extortionate. Even if you are going one way, sometimes it works out better to get a return ticket than a single."
Leanne Millar, 29, a student from Stobswell, said the price makes it unaffordable to travel longer distances.
She said: "Prices are steep, even just for a single fare. I usually travel by train from Dundee to Perth every weekend so it adds up.
"I have never really bought a railcard because there isn't really a good enough student discount and they won't allow you to show your student ID for a discount."
A Scottish Government spokesman said: "Overall, Scottish fares are 20% lower than the UK average and we already meet around two-thirds of the cost of rail passenger services in Scotland."
A spokeswoman for Xplore Dundee said: "We have a wide range of ticket prices to suit all pockets and the cheapest way of buying your bus journeys is by monthly direct debit, which gives you unlimited travel on all our services for just £1.45 a day.
"It's the second year in a row that we have frozen the prices of our multi-journey tickets, and our mobile tickets offer a discount, too, over the paper versions."
Douglas Robertson, commercial director of Stagecoach East Scotland, said: "Travel on Stagecoach services across Dundee costs just £1.77 per day for a regular traveller using our Dundee megarider ticket.
"Our range offers unlimited travel across the region and offers great value to those travelling regularly."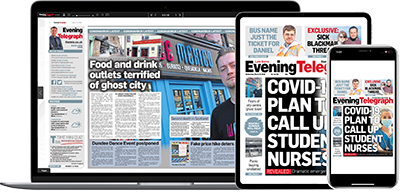 Help support quality local journalism … become a digital subscriber to the Evening Telegraph
Subscribe