More waste facilities are to be introduced in Menzieshill following a series of complaints about fly-tipping.
Residents have reported seeing Eurobins on Spey Drive overflowing with rubbish, including used nappies.
On Tuesday a soiled mattress was among the items dumped next to the bins. Labour councillor Michael Marra said he had received several complaints from constituents on Spey Drive.
He said: "It's completely unacceptable for human excrement to be strewn across the pavements of our city.
"Despite numerous complaints to the city council from my constituents these bins are overflowing on weekly basis.
"There is a clear capacity issue that is being made worse by fly-tipping.
"There is simply not enough space in the bins which is leaving them open to gulls and the mess is simply intolerable.
"The people of Menzieshill do not need more excuses or lectures on how to recycle.
"They need action and that means more bins in secure locations and for fly-tippers to be identified and fined."
Dundee City Council confirmed it would be increasing waste capacity at the site in an attempt to tackle the problem.
A spokeswoman for the local authority said: "We are aware of the situation and will be increasing the waste facilities in this area."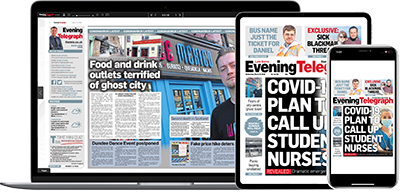 Help support quality local journalism … become a digital subscriber to the Evening Telegraph
For as little as £5.99 a month you can access all of our content, including Premium articles.
Subscribe