Dundee's West End Eurobins will get more of an artistic spruce-up than first imagined.
The Waste of Space project asked artists to submit proposals to redesign bins in the area.
But after careful deliberation, judges could not whittle down the number of artists to the planned eight, so more entrants had their designs approved.
The project falls under the Dundee Decides improvements to Perth Road remit, which asked the people of all eight council wards to vote how cash would be invested in the city.
Dundee City Council asked OpenClose Dundee – the group behind doorways in Stobswell being given a fresh lick of paint by local artists earlier in the year – to organise the refreshing of bins in the area.
The artists submitted five examples of previous work and a description of what they plan to do with the bin.
Russell Pepper, OpenClose Dundee organiser, said the number of participants had been increased due to the high quality of submissions.
The chosen artists are Richard Davies, Isla Valentine Wade, Zoe Gibson, Nicola Wiltshire, Lucy Robertson, Steph Liddle, Jane Wood, Shona Edward-Inatimi, Cathal Burke, Claire Maclean, James Gemmill, Katie Parkin, Emma Claire Fallon and Jerry Woodsford Kane.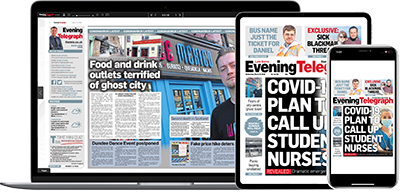 Help support quality local journalism … become a digital subscriber to the Evening Telegraph
Subscribe