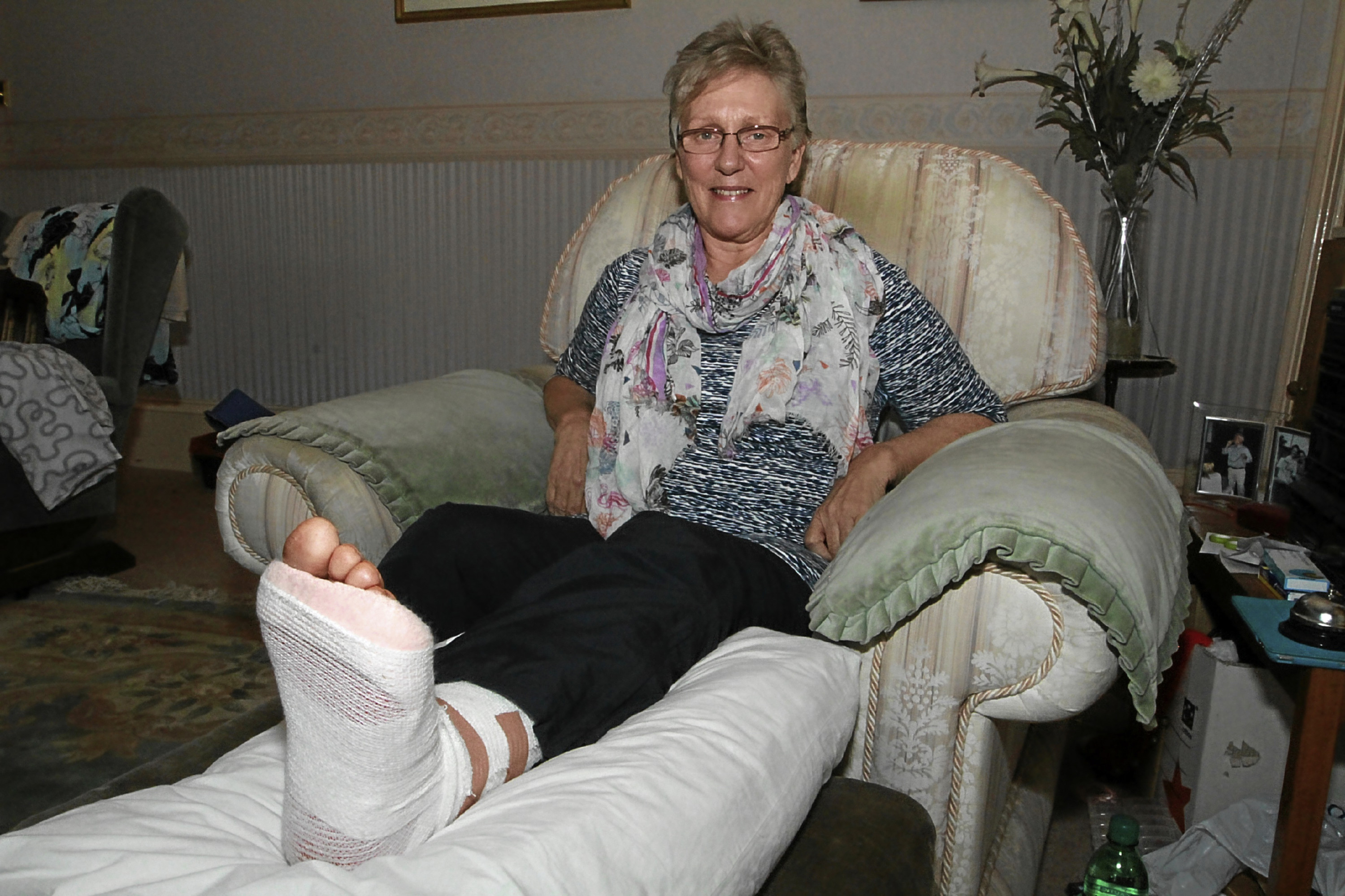 The Pretty Muddy 5k run is a course not for the faint-hearted.
But for one Broughty Ferry woman it ended in disaster, when she broke her ankle in three places.
Sharon McLaren, 64, was taking part in her second event, along with her daughter Eilidh McLaren-Hussain and four friends.
She was almost 4km into the race at Camperdown Park on Saturday and was making her way across one of the obstacles on the mud-splattered course when the accident occurred.
"It was a momentary blip in concentration," said Sharon.
"The six of us were singing songs by the Proclaimers along the course, and our spirits had been high the whole way through.
"At that point we were singing I'm Gonna Be (500 Miles) at the top of our voices.
"I caught the side of a tyre with my leg, and my ankle gave way.
"You could hear the crack of it above our singing. It was a really loud, sickening sound."
At that point Sharon realised her race — being run in memory of her mother Peggy McCann, who died from cancer in 2003 — was over.
Sharon's sister Doreen Coop and two of her friends have also battled the disease since then.
Sharon continued: "One of the race marshalls came over and they called a paramedic who came and met us with an ambulance.
"My daughter and one friend stayed with me until the medics arrived. I told the others to carry on.
"I was really adamant my daughter and friend carried on too, though. Although they were a bit reluctant to begin with, I persuaded them to complete the race."
Sharon was taken to Ninewells Hospital, where an x-ray revealed three breaks to her ankle.
She had an operation to insert two pins and a plate into her ankle on Saturday night.
Sharon, a retired sports coaching lecturer at Dundee College, was visited by husband Peter, who is in Ninewells as a patient for an unrelated health matter.
She was allowed home on Tuesday and explained: "The song 500 Miles is going to haunt me a bit now.
"I certainly won't be stomping my foot to it at the next wedding I'm at.
"I can't fault the race staff though, they were great.
"I was also sent two sets of dog tags, which everyone gets, to say I completed the race."
Sharon is now trying to turn her negative experience into a positive one, and is hoping people will donate to her daughter's JustGiving page.
"It would be nice to raise a little bit extra if I could."
Spokeswoman for Cancer Research UK Linda Summerhayes said: "We are aware of the incident and wish this lady a speedy recovery.
"The health and safety of participants is of the highest priority at Cancer Research UK, and all necessary measures are taken to make our events as safe as possible."